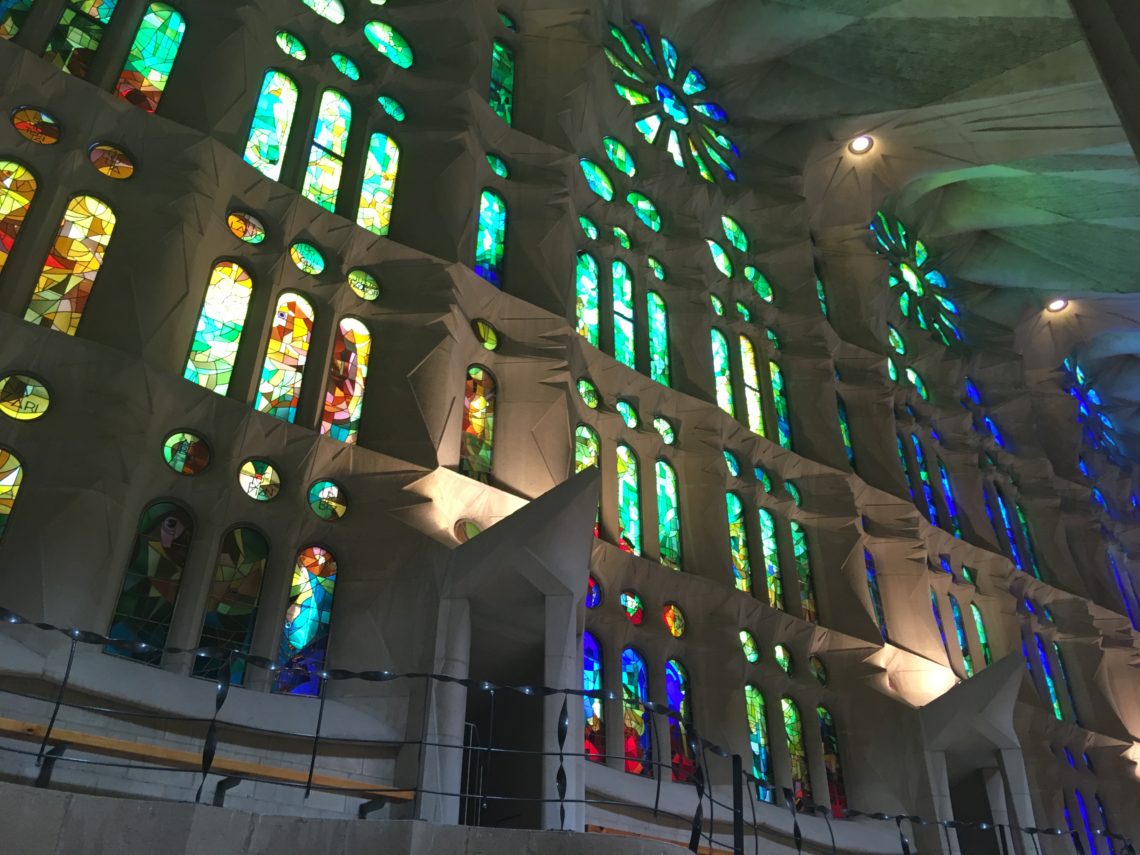 Across the street from Gaudi's gingerbread church the boy in Barcelona sits sandwiched between his mother and older sister. His arms flail as he squints and stutters sounds of protest in a language I don't recognize. Scandinavian, I think. Something Nordic or Germanic. White blonde hair and blue eyes. Tourists like me. Like most of us in the park.
There's almost nowhere to sit. Steve and I sit hip to hip next to another man who might be a local and might be a tourist. The Lonely Planet and Rick Steves books say that Barcelona (like Lisbon and Rome) is a hot spot for pickpockets and I've developed the habit of hugging my purse and people watching. Especially in places like this where double-decker tour buses deposit dozens of new tourists every three minutes. I've already seen another autistic child—a toddler–pass by in a stroller, flapping his hands while rocking his head and humming. He seemed much happier than the boy on the bench.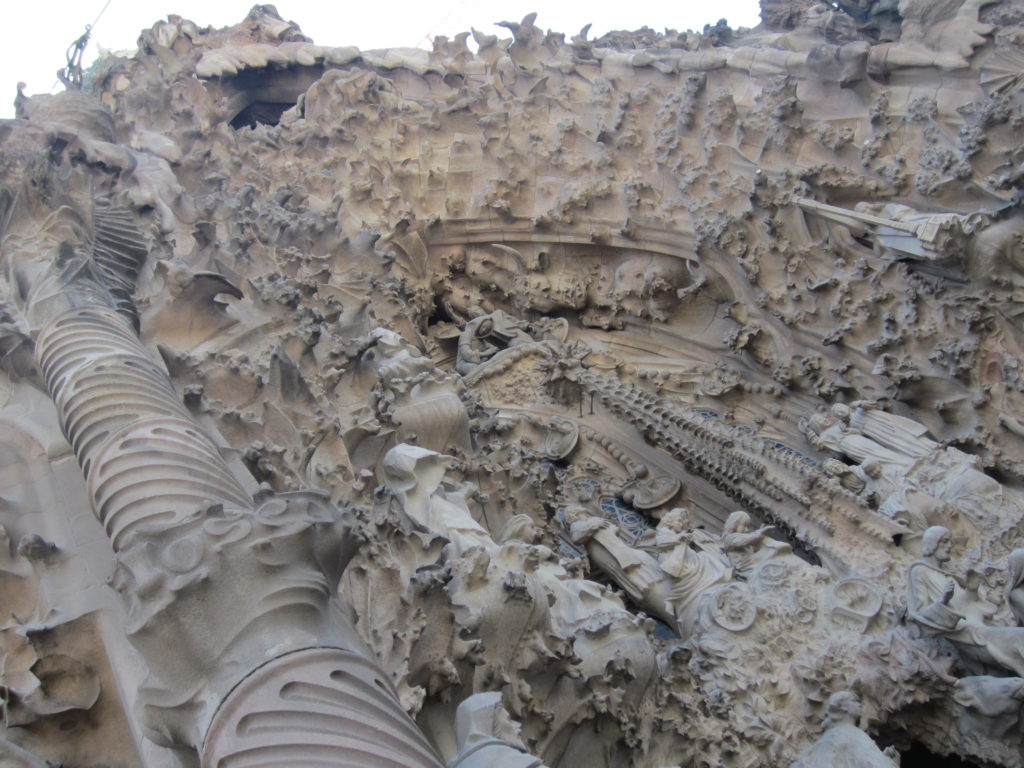 It's easy to be overstimulated in this little park. There are peddlers hustling all around us. Sunglasses lined up on blankets next to the sidewalk, women's sun hats and men's fedora's hanging on hat stands.  Newsstands selling Spanish headlines (and thankfully nothing mentioning the embarrassing American drama back home). Full sun exposure in the 90 degree weather and not a public drinking fountain in sight. I'm not sure anyone in our 5 meter radius is speaking the same language.
The family of three across from us is on the brink of a meltdown. I see it in the eyes of the mother. The panicked tone in her voice as she tries to soothe her child as he escalates, kicking up gravel, dust hanging around his feet. He just doesn't want to be here in all of this. He doesn't want to wait for his Sagrada Familia tour time. His sister, instead of shrinking in her embarrassment says something harsh to her brother, slaps him on the arm and storms off, tears in her eyes. In less than a minute later the mother drags her son off the bench and follows her daughter, leaving the bench momentary vacant before another family—grown children and their elderly mother–replace them.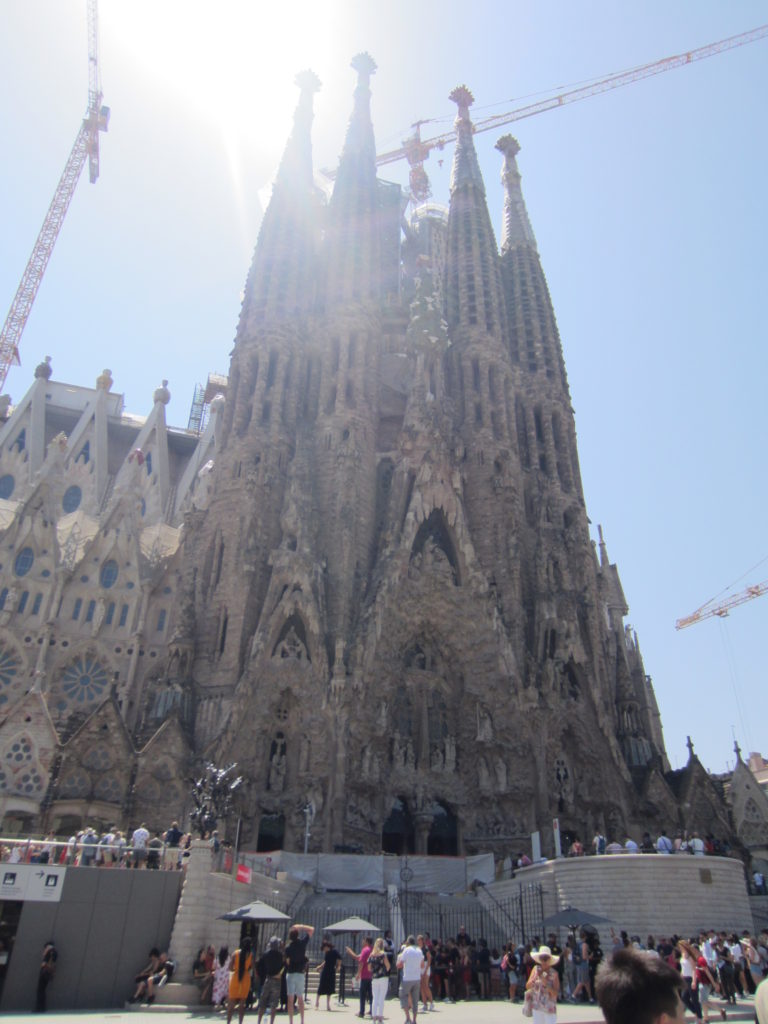 We've been there. I think of all of the struggles we've had travelling as a family. All of the public meltdowns we've had in places away from home—places where no one knows us or knows anything about autism. I think of all the times W has been embarrassed, I have been embarrassed, Steve has been embarrassed and all of the times we've forced J to just stick it through a little longer in a place that is making his skin crawl because the rest of us just want to experience and enjoy that new place. My heart goes out to that family in solidarity. In the past five days, Steve and I have said to each other at least a dozen times, "do you think our kids would like a trip like this?" and we keep coming back to the same answer—no. J has come a very, very long way, but there are just too many challenges for our family—for our J–on a trip like this. In Lisbon it was the air conditioned subway stops and sweltering cars. In Barcelona it was the sweltering subway stops and air conditioned cars. Dinner at 8:00 or 9:00 at night. Long lines and tours of art and architecture. And then there's the whole issue with water. There's never any water to drink. If you're lucky enough to find someone peddling water, it's two, sometimes three euro a bottle. No free water at a restaurant. No ice. J always needs a drink of water and not having the North American water access he is accustomed to would be absolute tragedy. No. This isn't the trip for our family. In fact, this might not be the trip for some neurotypical American families.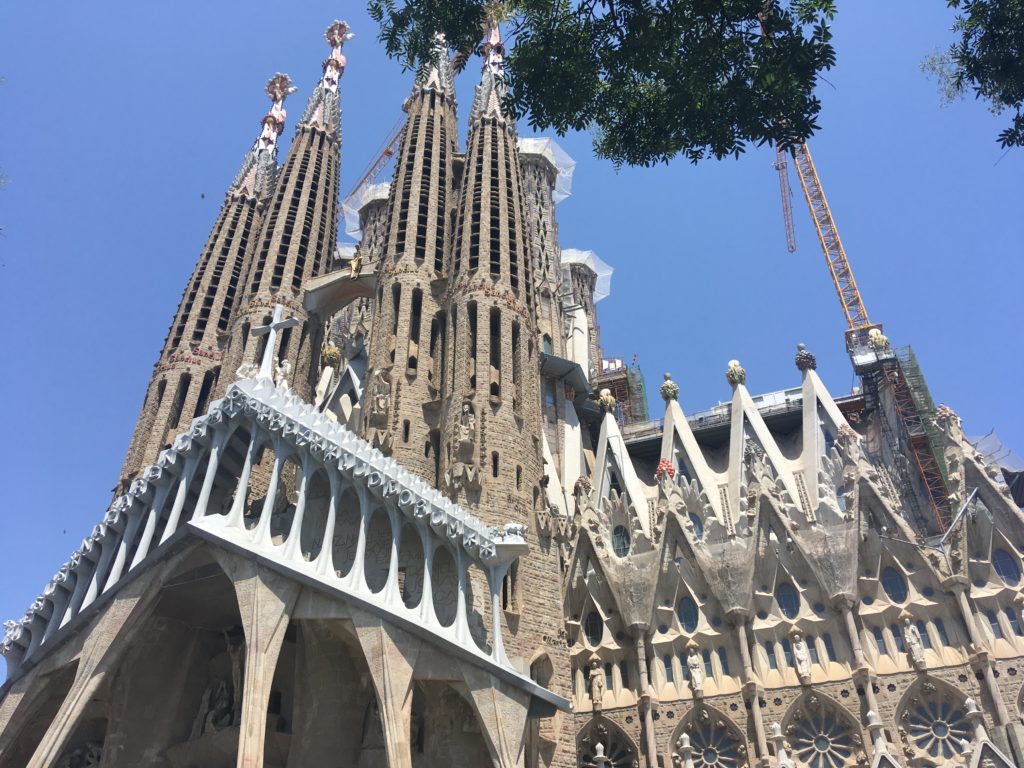 And that's okay. Because this is totally the trip for me and Steve. We love new languages, new culture, architecture, art, food, music. The knobby cobble stone streets, the rich tiled homes and shops, the heart wrenching melodies of Fado in Lisbon, Gaudi's architecture, Piscasso's paintings, FLAMENCO, the tapas of Barcelona, make my heart sing—I'm the happiest girl on the planet. I love seeing how we all experience and interpret and make meaning of our lives as humans. Finding those things make me feel alive and whole. But I can't have the experiences I'm having right now if we were all together. For a family who does everything together (sometimes by default), that's a hard realization. But at the same time I'm glad that we have learned to give ourselves permission to do the things we enjoy as a couple and not feel guilty of having a life outside of our autism life. Because autism will always be our lives for the rest of our lives.
As tourists take selfies in front of the Sagrada Familia, I realize our family is the Sagrada Familia of families. A far cry from any of the other Gothic cathedrals in Europe. Quirky. Under an extremely long construction period. Always publicly, sometimes glaringly under construction. On its own timeline, feeling never finished, always being tweaked. Construction plans destroyed and new designs drawn up. We are forever the work in progress, often in our strange world trying to coexist and interact with the rest of the world.
And then I think of the blonde haired blue eyed family of three on the bench–the toddler in the stroller, all of the other families in the world living Sagrada Familia lives who feel like they are the public spectacle in progress too. There are Sagrada Familia families that struggle with other challenges that aren't autism, there are many challenges out there that take us off the "traditional track." It feels so isolating.
Finally we are able to go inside La Sagrada Familia: It's absolutely gorgeous, the most unGothic Gothic cathedral I've ever seen and it's the most beautiful one I've ever seen. Inside is colour and light and grandeur and celebration. The elements are the same: the saints are represented, Christ is there, along with an organ and confessionals. But it's not the same. No matter how many times I try to take the perfect picture it never shows up the right way on the camera–the light distorts everything. But I am in love.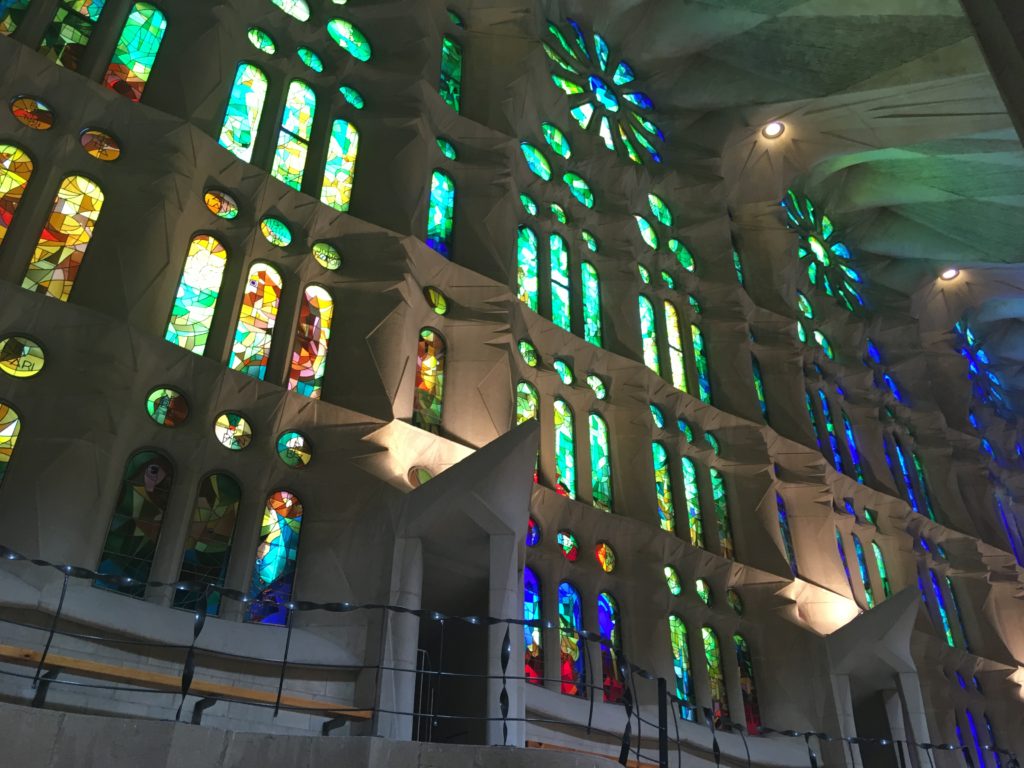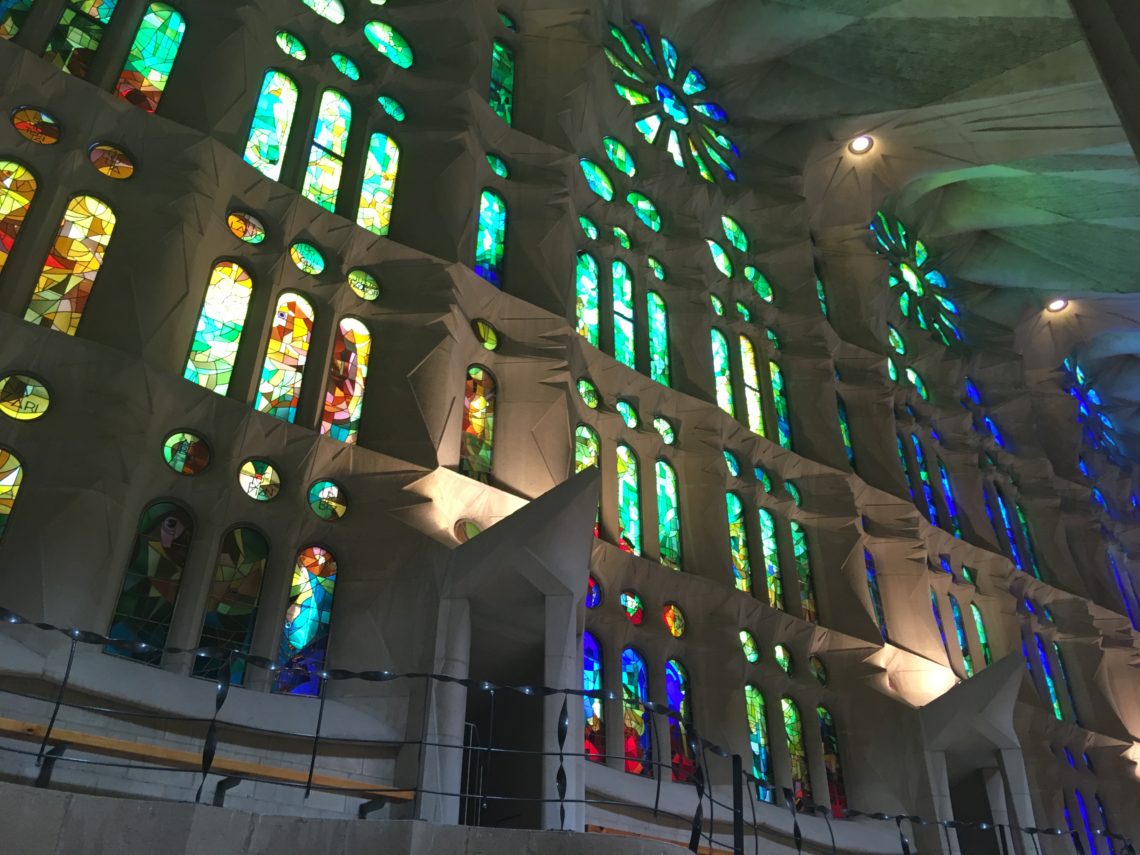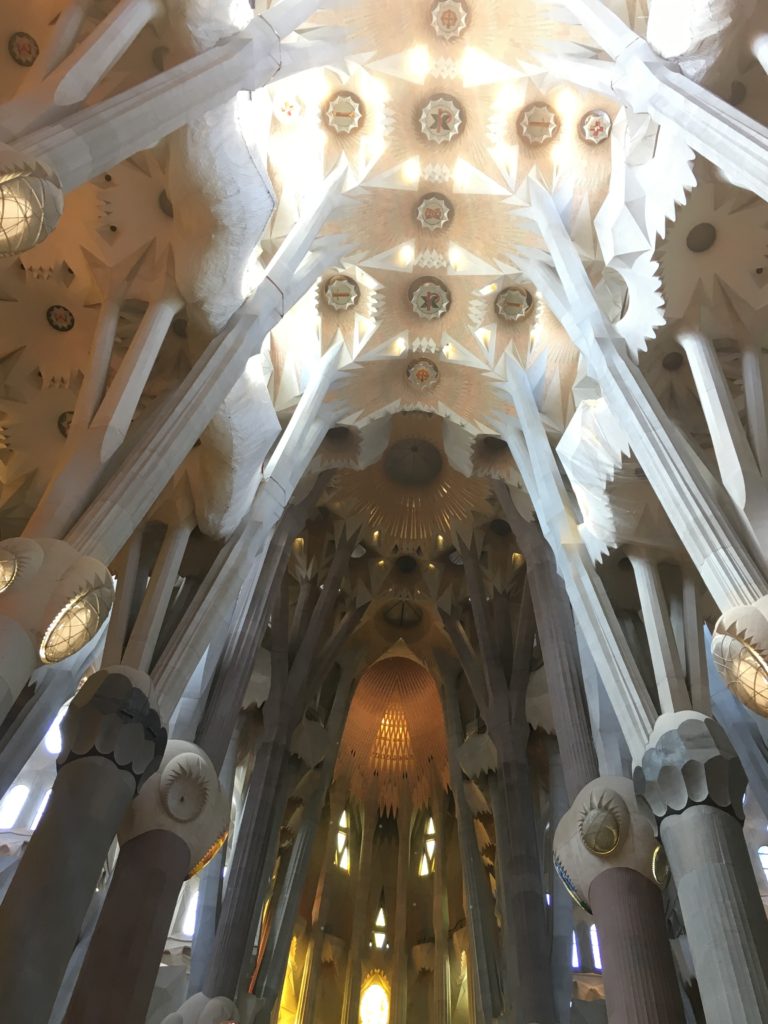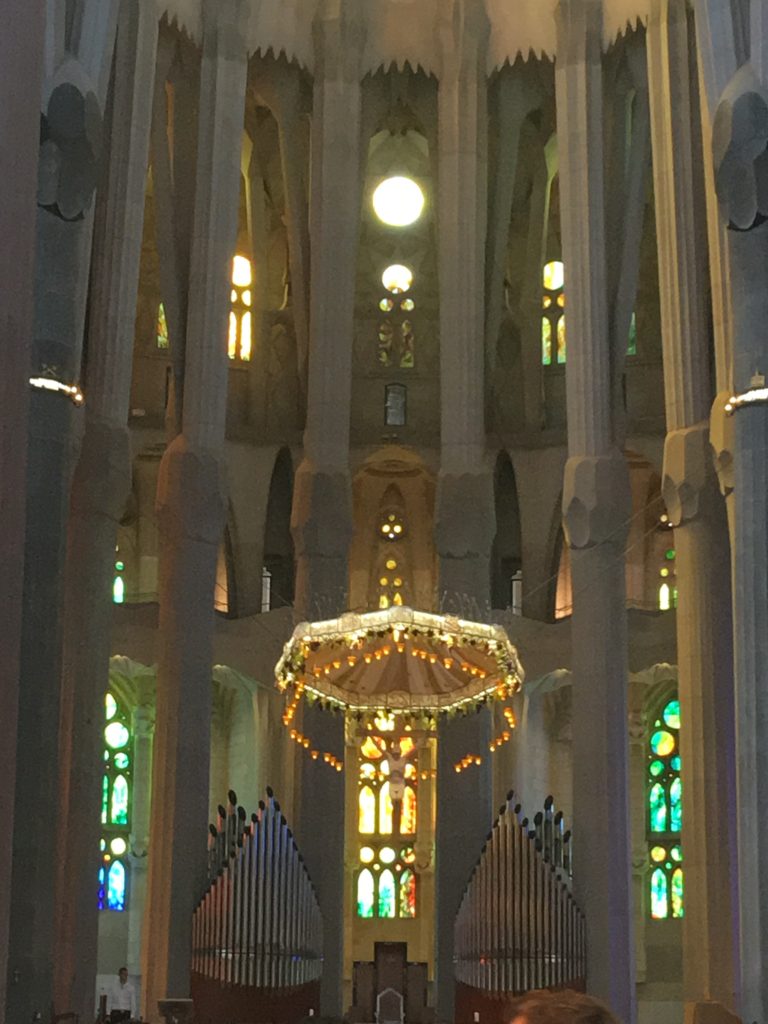 Just Steve and me, away from our family and every day mayhem, I experience how beautiful the divergent from the traditional can be and how there is a place for that too. I hope all of us Sagrada families remember that. I hope the family of three on the bench remembers that.
Please follow and like us: