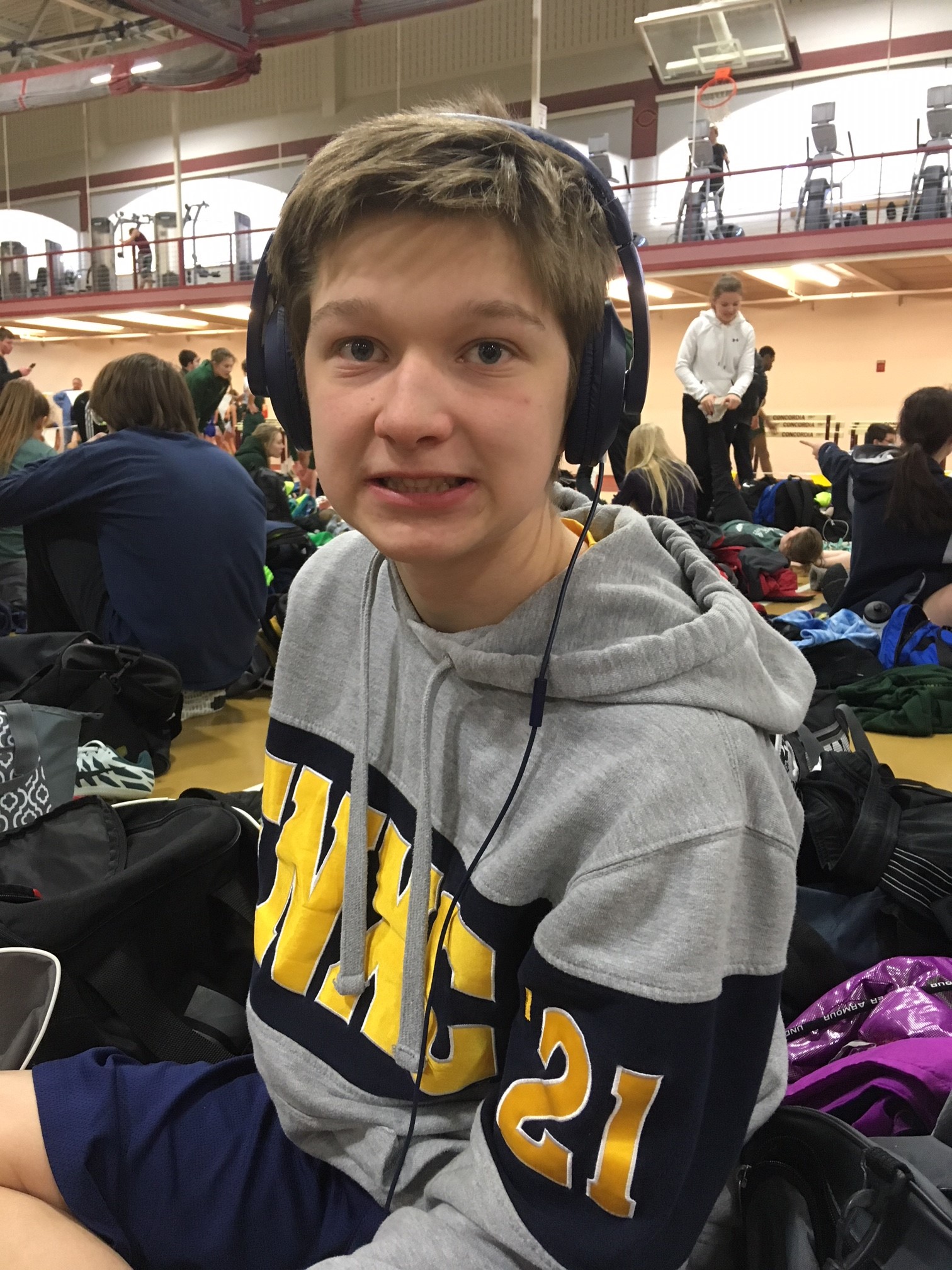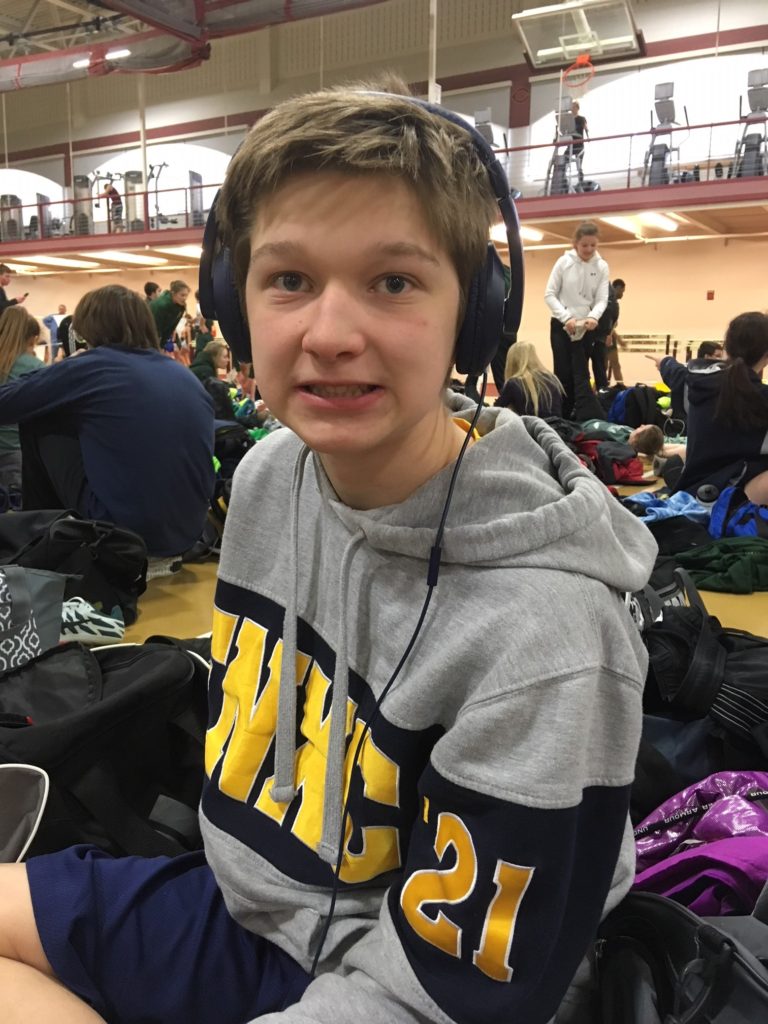 When they called the fourth heat of the 800 metre race to line up, I looked over at a few of J's XC teammates, who had also congregated on the sideline, and said, "Yeah, I'm pretty nervous about this."
"Yeah, we're nervous too. But he'll do great. He's been getting so fast lately."
Then the official called the boys to line up by numerical order. Of course, this is J's first high school track meet–first indoor track meet, for that matter. In middle school, he ran with kids from his team and so J always had someone who knew him (and knew he had autism) help him line up. But this time he was on his own. He was the only one from his school racing in the heat, and so the official had to direct him three times to the spot on the line. I know he had no idea that J has autism.
"He's going to false start," I kept thinking to myself. I had seen the other heats and how quickly the runners moved from the line to the waterfall start–much quicker than what J was used to last year–and I was sure that J would keep moving past that line before the gun went off.
The gun went off. No false start.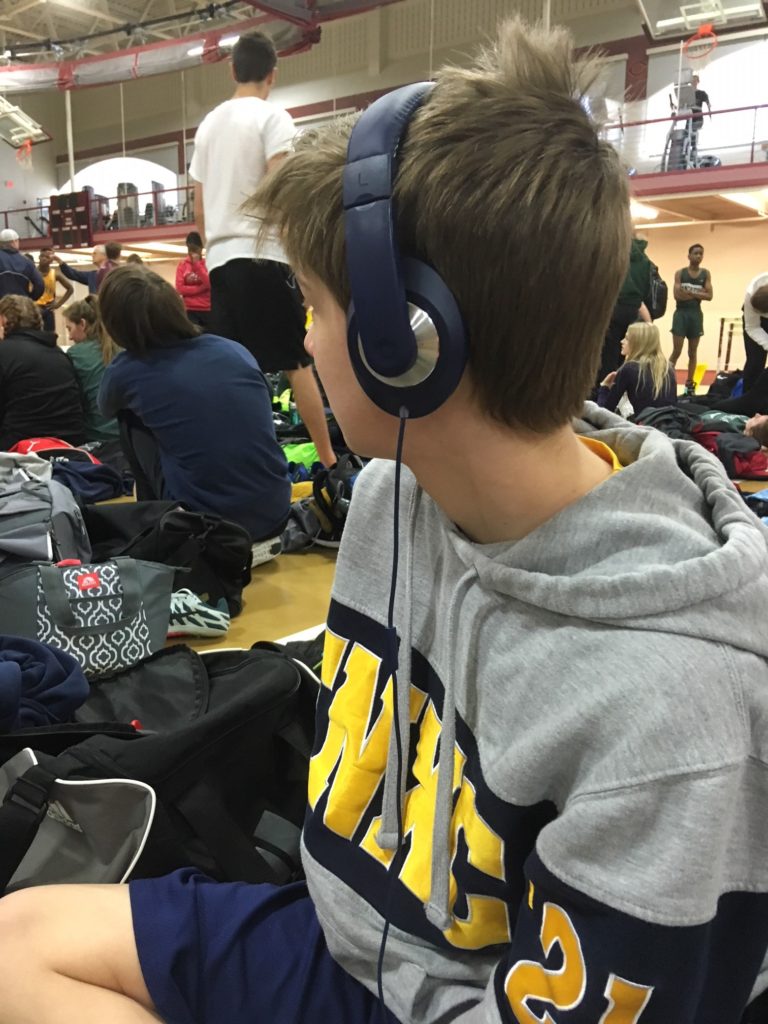 Three minutes, thirty seconds, and some change. That's how long it took J to make it to the finish line. Three and a half minutes that felt like eternity and the blink of an eye. For the first lap and a half, J looked like he wanted to compete–to win–for the first time in his life. For the first time in his life he looked like he was trying to keep up with the pack–like he wanted that competition. At one point was on the verge of passing the boy next to him, but unsure of himself and whether he should do it, decided to pull back instead.On lap 3, looked up at the crowd of spectators above his head and lost that competitive mind space. By the end of lap 4 he was the last runner coming in–far enough back that he couldn't catch the runner in front of him, but he stayed focused, got energized by his teammates cheering him on and followed through to the end.
And never got lapped the entire race!!!!!
3.30.35–J's new number.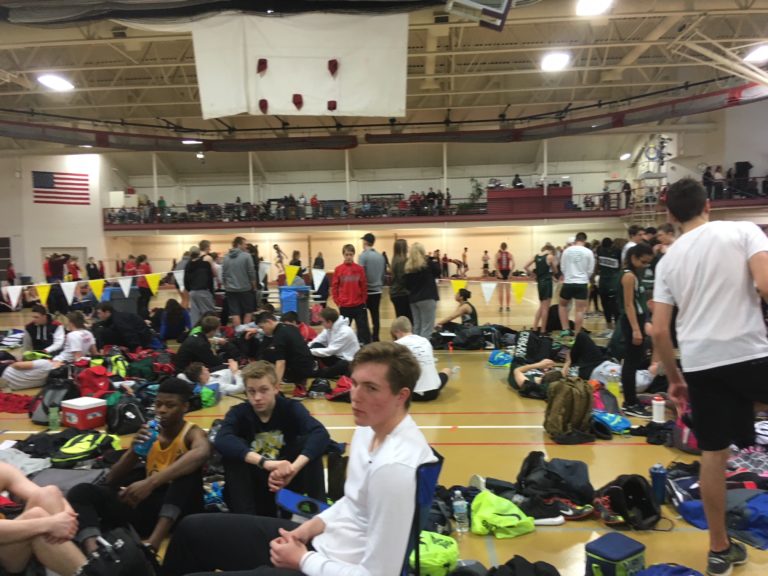 Sometimes I think, "we have 3 and half years left until graduation," and I have a mini panic attack. Three and a half years. That's it. And it's going by way too fast. We're doing the high school thing now and it's a different beast–there's an added impeding importance element to it. This first track meet was a very different experience than J has had before. J has never raced on an indoor track before which meant that instead of running 2 laps for the 800 on an outdoor track, J needed to run 4 laps for the same distance on the indoor one. It's also a whole different atmosphere. Everyone is squished into the middle of a gym floor. There's a lot of noise. There's a lot of activity going on. There's a gun going off every five minutes or so–and it's loud, much louder than when you're outside. There's pull vaulters to the right of you, next to the shot putters. There's flag borders marking off those areas because you could, without thinking, just accidentally walk into the middle of a jump while you're trying to figure out when and how to cross the track to get a drink of water without passing through the middle of a race. It's busy. And something J would never be able to handle in a million years a few years ago.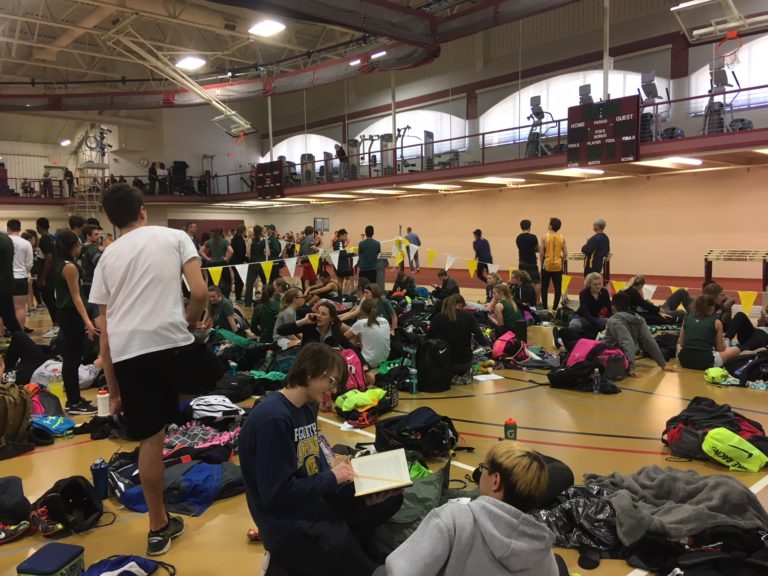 But it's different in a lot of good ways. There's no middle schoolers, which means there's no "behavioural" issues and "messing" around. Kids are calm. They're focused. They're paying attention to the events, or listening for their announcement to line up. It's really autonomous. There's no coaches hovering over the kids, making sure they need to be where they need to be, doing what they need to do. There's a sense of maturity and responsibility that hasn't developed yet in the middle school kids.
As I sat with J, for a little over two hours, waiting for the 800, I really started thinking about how quickly kids grow up. I really try not to talk to the middle school/high school kids on the team at practices or events, because I'm really trying hard just to be J's shadow, but there were moments during this meet where I got to talk to some of these kids for a few minutes–especially the older kids. And I was so impressed by each of them. I was impressed to hear about their reflections about graduation, life about post high-school and their reflections on their own high school experiences. I saw them working on homework and studying for tests. I saw them cheering on their teammates and putting their all into their own events.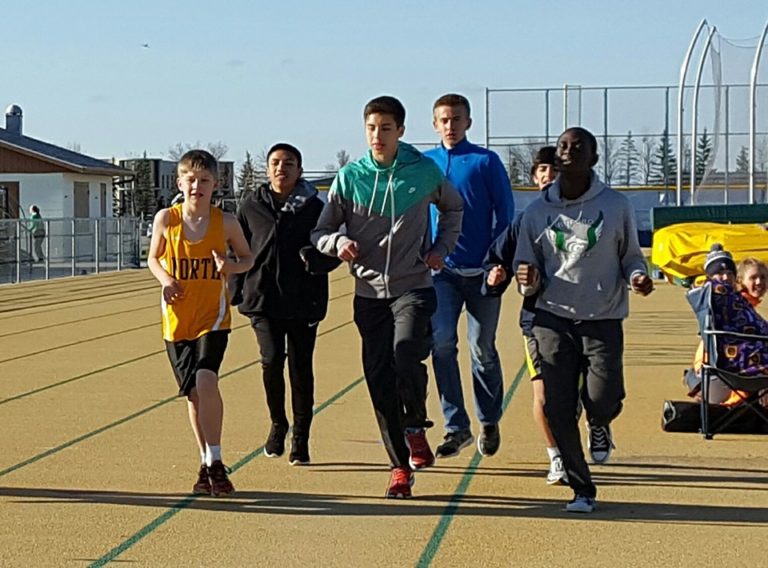 I know I say this all of the time, but J is so lucky to be able to hang out with such great kids every day after school. I've said it because of the way I've seen them act and behave. They are SUCH impressive kids. I know these kids are going to leave high school and do great things.
They make J a better kid too. Because J is integrated with really great typical-developing peers, it helps him grow in ways that I can't teach him as an adult. J can be a quirky kid. He can be super immature. He can ask super annoying questions all the time. Sitting for four hours on the gym floor, waiting for his event, you wouldn't expect him to be calm and patient. But he was. Because everyone else on the floor was. He has autism, but he still picks up pretty well on social cues, so if his peers are modeling good behaviour, chances are, J will try to be well-behaved too. He asked only one annoying question, right before he lined up for his event, but when I reminded him that everyone else needs to focus and concentrate, he understood right away and there wasn't a peep out of him after that. He decided he needed to focus on his event too.
J's come a long way, and with new experiences come new things to master. On Saturday, we caught a little flicker of that competitive desire–something we've never seen before, and I hope J will be able to nurture that drive. Being competitive with yourself, to want to be better and do better–not because someone is pushing you to, but because you want to be the best you can be on your own–that would be a huge developmental milestone for J. On Saturday we saw a glimpse of how J performs when he's focused–if he can learn to overcome all the distractions around him that would be another huge life skill.
Three and a half years. That's what we've got left. It's an eternity and the blink of an eye, but plenty of time to keep maturing and growing.
Please follow and like us: