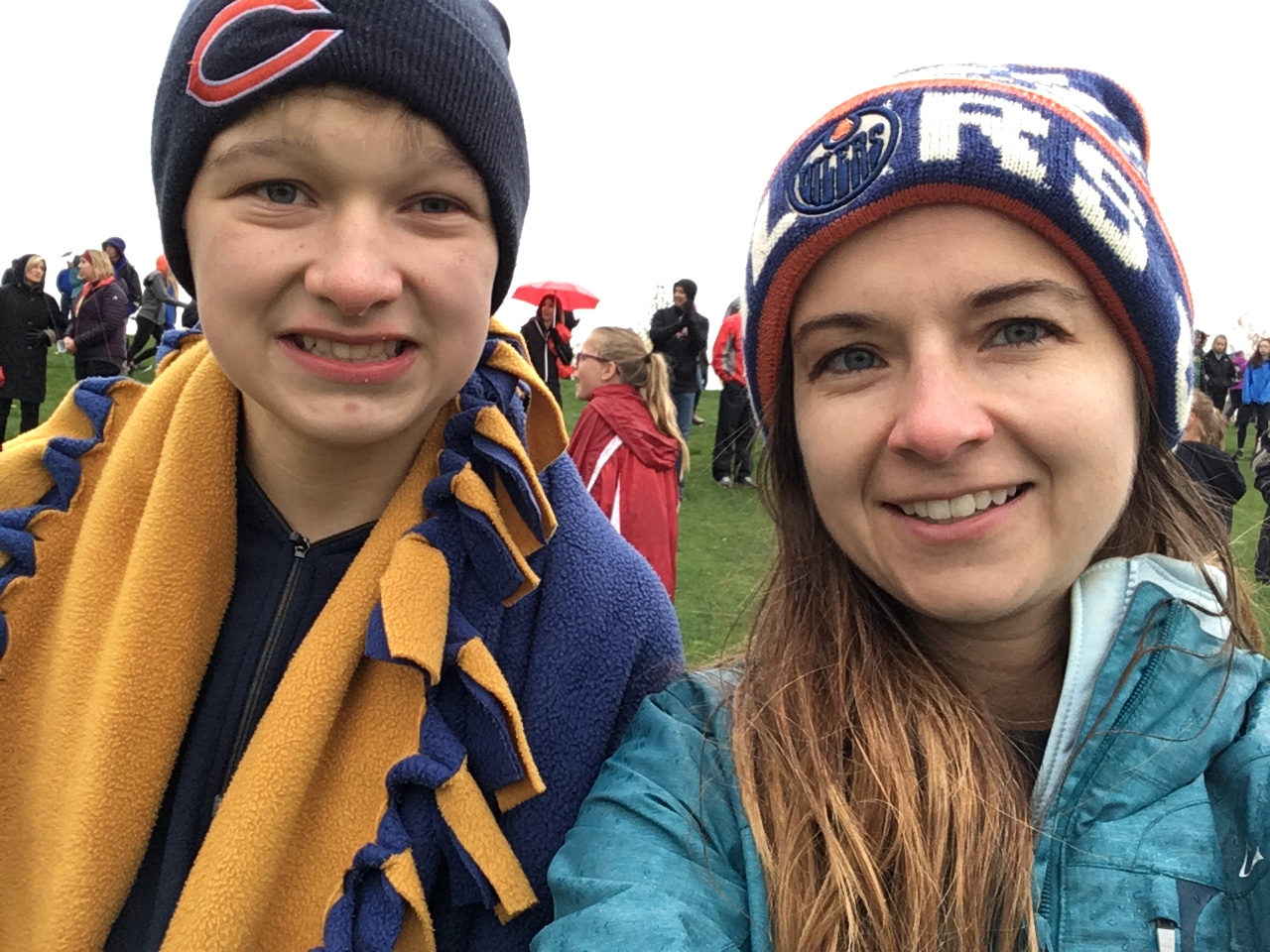 Going beyond self regulation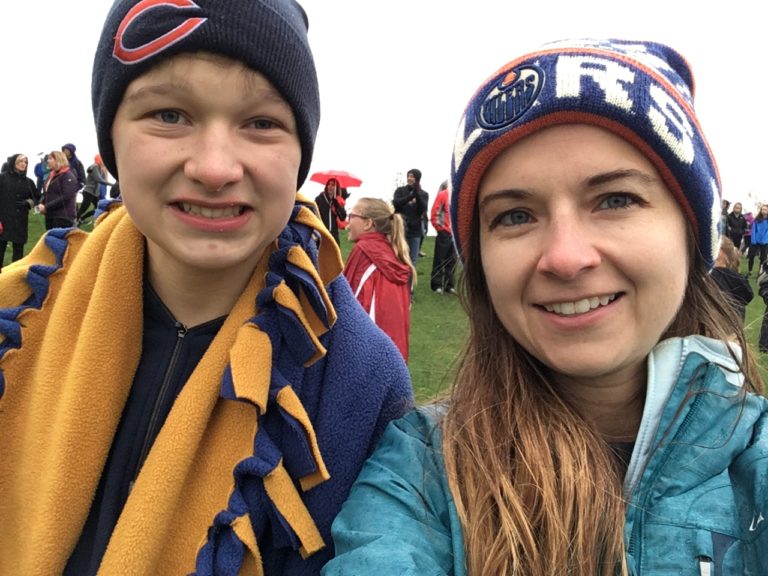 Saturday was the biggest meet of the season and everybody knew it except for J. To him, EDC (Eastern Dakota Conference) was no different than any other meet he'd been to all season. Except for the rain. This was our first meet with rain.
Learning to run in the rain has been a process. J's coaches have been witnesses most of that learning process. Luckily, they've all taken his mental breakdowns with rain in stride. They've been patient at coaxing him to finish when a downpour comes unexpectedly in his run and he suddenly stops and freezes while the rain drenches him from head to toe and he has a panic attack. They've ignored his rants about how much he hates everyone and everything when he's soaking wet in the rain. They've been patient with him at the beginning of a practice when the rain has stopped, but he still refuses to start a run, because he's afraid it will start raining again. J's been running for almost three years and come so far with his sensory struggles with the rain. He's learned to tolerate water sloshing in his shoes, wet socks, prune toes. He's learned to keep running while water pours down his face and into his eyes. He's learned how to keep running when his clothes are wet and skin-tight against his body. He hates it. These are huge HUGE sensory issues for him, but he's learning to deal with them. He runs really slow those days, but he runs.
I was expecting Saturday to be unbearable with J. Being outside for 3+ hours in 40F/4C weather plus rain is no picnic for anyone, let alone a kid with severe sensory issues with wet clothes. But something's changed with J since he's started high school. He's much more– mellow. He's handling his anxiety MUCH better. At home, when he gets frustrated with homework, instead of yelling at me or getting in my face about it, he'll put his pencil down, close his eyes, and take a deep breath. We're not dealing with as many "crises" over little things. And things like running in the rain just aren't that big of a deal anymore.
W raced first, and before the race, I could see that competitive fire in her eyes. After all, this was EDC–the biggest race of the season. W isn't the fastest runner by any means, but boy that girl can have a competitive streak when she's fired up. When I saw her running the course, I could see that she wanted to run her best–in her body language, the grit in her face and the way she was focused on passing people. Watching her race, I knew this would be her best race of the season, long before I saw her time posted.
And then J raced, moseying along the course, looking checked out half the time, just going through the motions. Every once in a while, he would speed up when someone would yell out his name. He got cranky on the back jig-jags of the course. Two kids passed him on the end stretch to the finish. He's had a couple of "checked out" races this season, but this was probably one of the "most checked out" races of the season. I'll just say we were beyond shocked when we saw his time posted. He ran a half-hearted race and PR'd!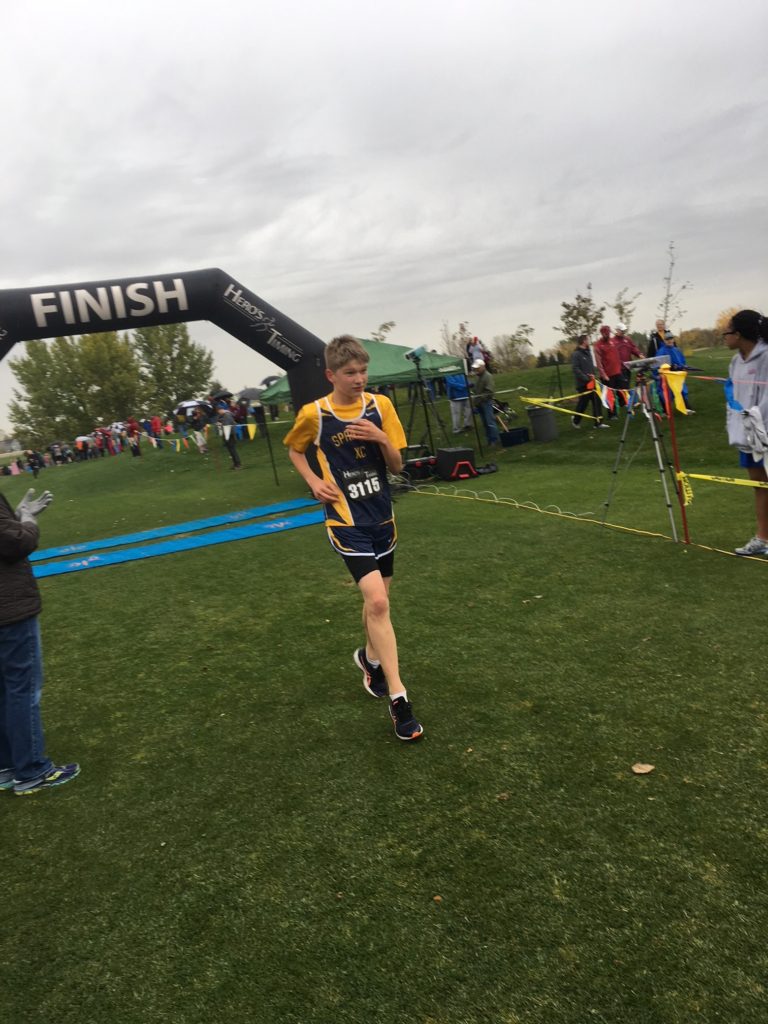 Since Saturday, I've been trying to figure out how J was able to run his best race of the season while running on mediocre effort. And the only thing I can come up with is this: Almost every person on the team PR'd that day. Which makes sense–it was the conference meet, and everyone, like W, wanted to be as competitive as they could be that day. And so they pushed harder, which forced J to keep up, even just to trail the pack. J wasn't there mentally, but he ran faster because everyone else was pushing him to run faster. Yes, it was cold and rainy, and those sensory issues had the potential to trigger him. But Saturday didn't end up being that day. He had spent an hour in the rain before his race and had no meltdowns over it. He didn't seem bothered at all.
And so this is where we've been finding ourselves lately. J has become so much more independent, so much more confident, and managing his emotional/mental challenges so much better in the past few months. The rain, the meltdowns, all of those triggers are becoming less and less of a problem. He's doing more things on his own. He's practically doing every practice now without me around. The last two meets he's rode the bus with the team instead of driving in the car with us. He's finished every race this season.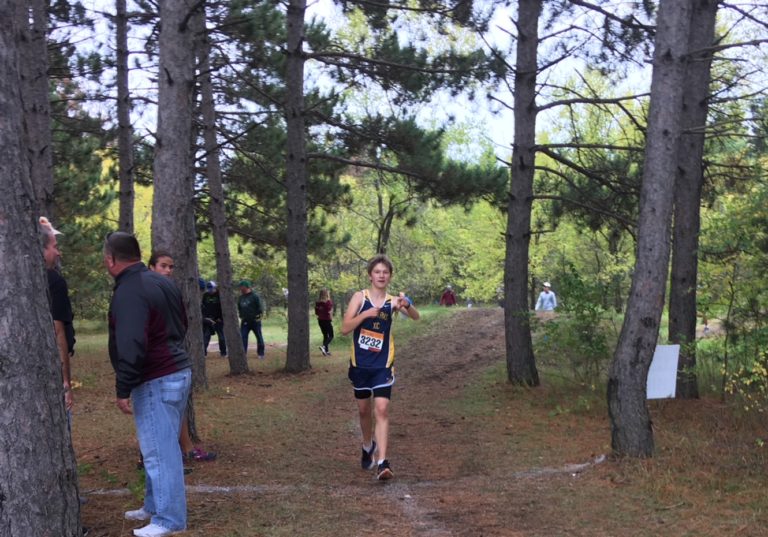 But now that he's conquered a lot of these "keeping it together" challenges, I'm starting to see the other challenges that have been eclipsed by the mental and behavioural ones. J doesn't know how to do things on his own, even when he's "checked in" and running a good effort. All of his life, he's had someone beside him telling him what to do or how to push through something and through this season of XC, I've seen these problems come to the forefront because he's managing himself so well on his own. I see this on the XC course, when he doesn't know which direction he's supposed to go on the loop during a race (because he wasn't paying when his team walked the course before the race). I see this when he can't find his pants after the race (because he wasn't paying attention to what his warm ups looked like) in the post race bin. I see this when he runs a race and asks me when he passes me where we're eating after the race instead of focusing on trying to catch up to the person in front of him. I see this when other boys get excited or disappointing by their race time, while J thinks every race is a success because he showed up. (Which is great, don't get me wrong, showing up has been our battle these past 3 years and we are VERY happy with that win).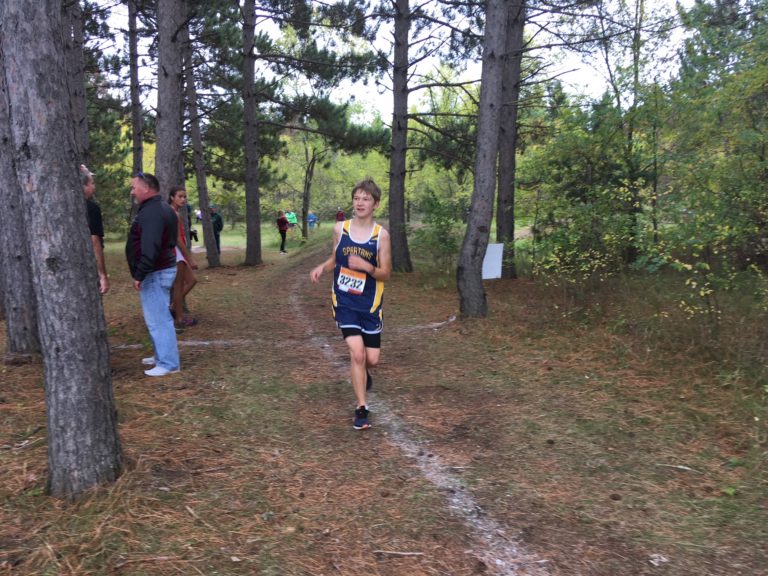 These new issues we're facing extend outside of the cross country scene. J doesn't know how to take care of himself beyond self regulation. He doesn't know how to keep track of his things. He doesn't know how to be competitive on his own. He doesn't even know what competition is. He doesn't have any "personal best" plans for himself. There's no inner fire inside of him to do better than someone else.  He doesn't understand the important, high stakes nature of a test. He doesn't understand assessments matter or the drive for learning. He assumes that people will push him to do the things he needs to do and that he doesn't have to do any of that on his own. And for a long time, life was too stressful to try to figure any of that out–he was just trying to keep it mentally together–that he needed someone to be a personal manager for him. Now that he's getting more functional, how do you teach a kid to pay attention to the little things when they've relied on an adult to do that for them FOR THEIR ENTIRE LIFE? How do you teach a kid to push themselves beyond their comfort level to perform at the best of their ability? (especially when anxiety is a constant, underlying issue–that's a tricky line to walk). How do you teach them to know when to run a practice pace and when to run race pace–literally and metaphorically speaking?
I know I'm jumping ahead of myself and should be basking in these glorious victories a little longer. Succeeding at self regulation is no small accomplishment. I'm beyond thrilled with an incredible XC year. But at the same time, I'm always looking to the next mountain to conquer, the next things to work on. I think a lot of parents with special needs kids do this. I'm super proud of this kid. This kid has more mental things to juggle than most kids I know. To come this far is really incredible. And I know those pieces for success–to be the best version of J–are there: the ability, the intelligence, the drive. We just have to figure out how to make them all come together.
Please follow and like us: