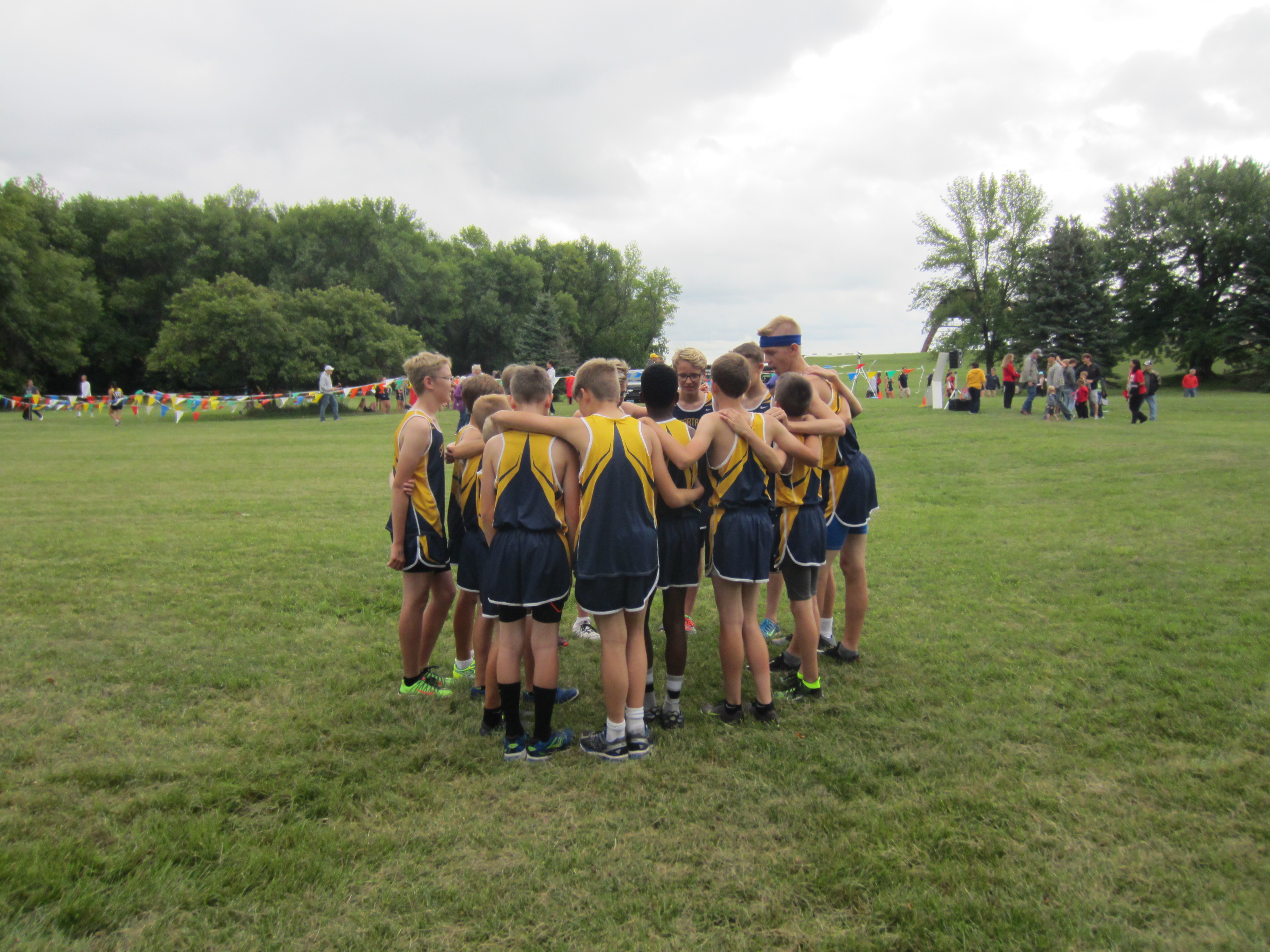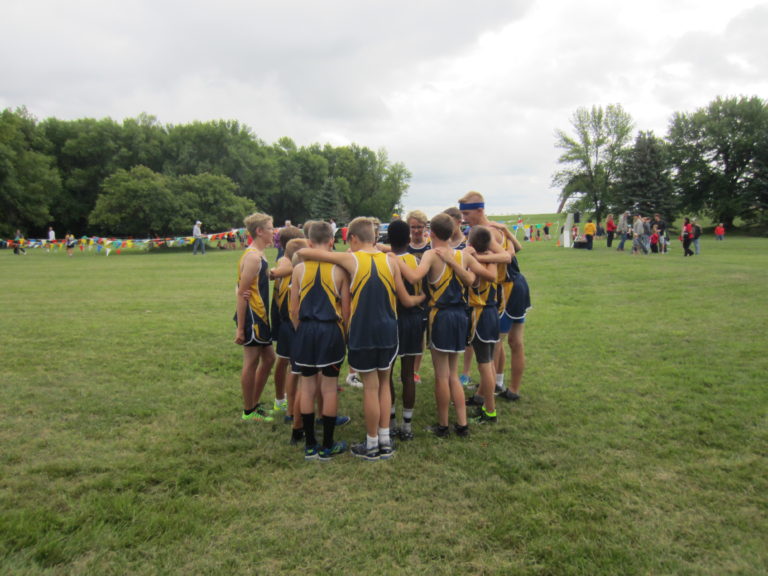 I really thought J was going to rock that first XC meet.
J's been preparing for this day for an entire year. Last September J started shadowing the XC team, trying to build up his endurance enough so he could at least keep an eye on the next to last runner two blocks ahead of him. J ran almost every day through the entire winter. An entire FARGO winter–winter gear, running cleats, double layers, and even a face mask on some days. J ran through the spring, every day after school with the middle school track team. He built his endurance to four, five, and even reached a six mile run and managed to keep close to the pack. J ran three track meets (the rest were cancelled because of bad weather). He ran the Fargo Marathon 5k and participated in summer running at North. He's been running and training like a champ.
At the start of this XC season, I really saw J's work pay off. After the first week of the season, I could no longer keep up with J, and I had to pull out my bike instead. J is no longer the last runner coming in at practice. He typically comes in ahead of four or five other runners on the team. This kid's progress in endurance and speed has really been amazing. And he's confident now when he runs–you can just see it.
I really thought J was going to rock that first XC meet.
In retrospect I should have known better, this is J we're talking about, and even though J was really excited for his first meet, I should have seen it coming. Except I didn't. Because everything looked good on paper. J is faster now. Stronger now. He's feeling more confident in his body.  I had every indication that this was going to go well.  But I had forgotten about that darn autism factor because when J runs, it doesn't look like he has autism. Because he looks like all the other boys now when he runs. He acts like the other boys on the team. He's conquered a lot of those mental running demons.
The coaches had arranged a former North XC runner, S, (now an MSUM student) to run alongside him, just in case, which ended up being a really good idea. The race started just fine. J was trailing behind the pack, but that's okay. This kid has endurance, and that's what keeps him competitive after mile one when the other kids start burning out (I've seen it when I bike beside him in practice). Except that's not what happened around the end of mile one. That's about when the mental collapse happened. By the time I saw him at the halfway mark, J was in tears through the switchbacks on the course. "I want this to be over, when is this over?" "I hate this! I want this to be done! I want to quit!" He kept choking out the words between sobs. J managed to scrape through the last mile or so, just barely, crying the whole way. S was a trooper and I'm really grateful for her patience and willingness to run with J. I know he probably said some mean things to her. It couldn't have been any fun.
I was crushed at the end of the race. J came in dead last. Barely even finished. It was really demoralizing for him and me. He didn't say a word on the bus ride back to the school. The question "what went wrong?" ran over and over in my head all weekend long and into practice the next week. Was it the kids cheering him on? All of that noise? Maybe it was overstimulating…but J did handle 3 track meets and the Fargo Marathon 5k with 6,000 runners, people cheering in the streets and live bands playing. So maybe not. Maybe it was nerves. Maybe it was because this was the first time J has raced in grass. Maybe it's because it's the first time where he's had no concrete markers showing where to go. Maybe he can't visualize the beginning, middle, and end of the race because he's running through fields and trees. Maybe it was the switchbacks.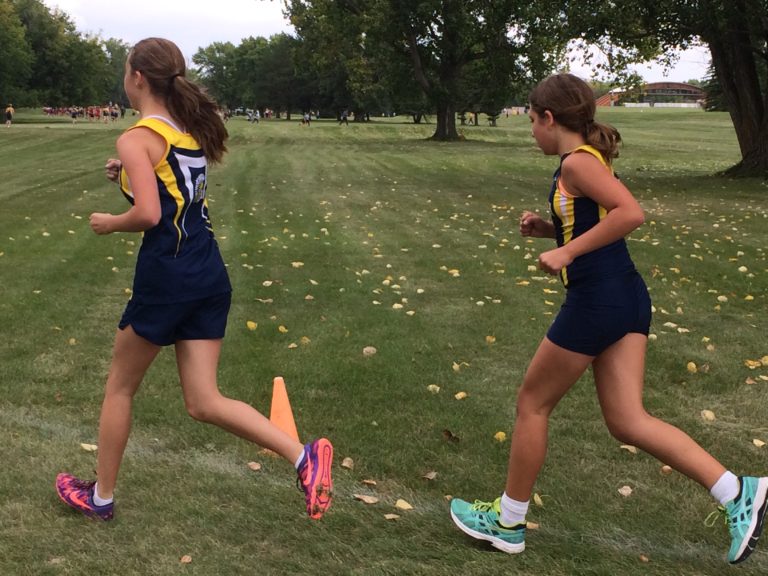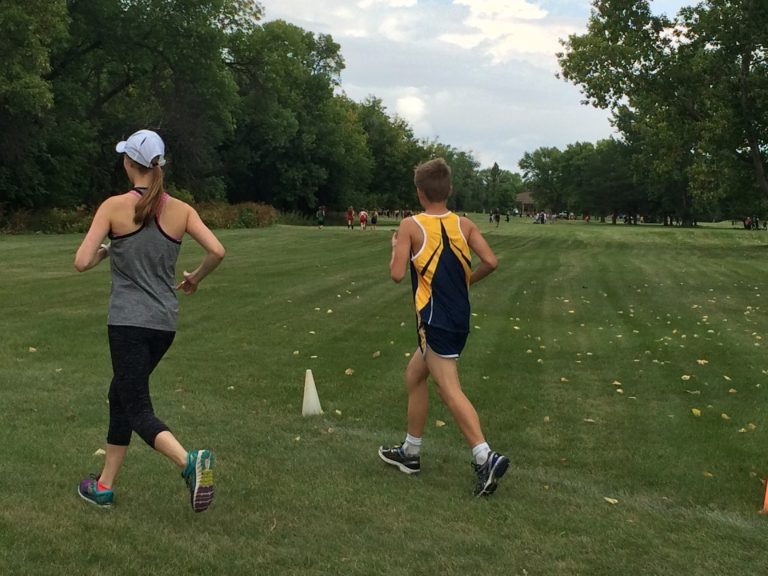 Maybe it was all of those things and maybe it was none of those things.
J's second race last week didn't go much better. In fact, he didn't finish that race at all. He cried again halfway through the race, asking again and again if he was done yet. "It's all mental," one of the coaches said to me after. "He's having a mental breakdown when he's racing. I've seen him run the practices just fine." It's true.  He is just fine in practice. He runs 3-4 miles a day. Almost twice the distance some days as this race. A 3K is only 1.86 miles. There shouldn't be a problem at all.
Steve says the first race could have been a lot worse. It could have started raining. J hates running in the rain. In fact it did end up raining and hailing about 10 minutes after the race finished. We came home to this in our yard. So yes, it could have been a lot worse. J would have been traumatized by the hail and would have refused to ever run again.
J has his next meet Thursday. This weekend I took him out to the park where the race will be held, set my timer for 20 min (a little longer than what I expect he can run the race in) and we ran in loops and circles around the park. It was hard. A lot harder than I remembering course running being. Not knowing exactly where you're going really does take a lot more mental strength. Halfway through, J started asking if we could be done yet. I told him he had 10 min, 5 min, then 3 min left and he was able to stick it out with a lot less whining. He didn't cry at all.
With J it always comes down to that mental battle. It's the demon that never goes away. I'll be honest, after these last two meets, I was seriously rethinking this whole XC thing–I was that demoralized. J loves running, but right now he just doesn't have the mental chops for the meets. But I have to remind myself that's the exact reason why I shouldn't pull him from it. If J can push through that mental anxiety of not knowing when a hard thing is going to end, that is probably one of the biggest victories this kid will ever have.
It just might some time getting there.
Please follow and like us: