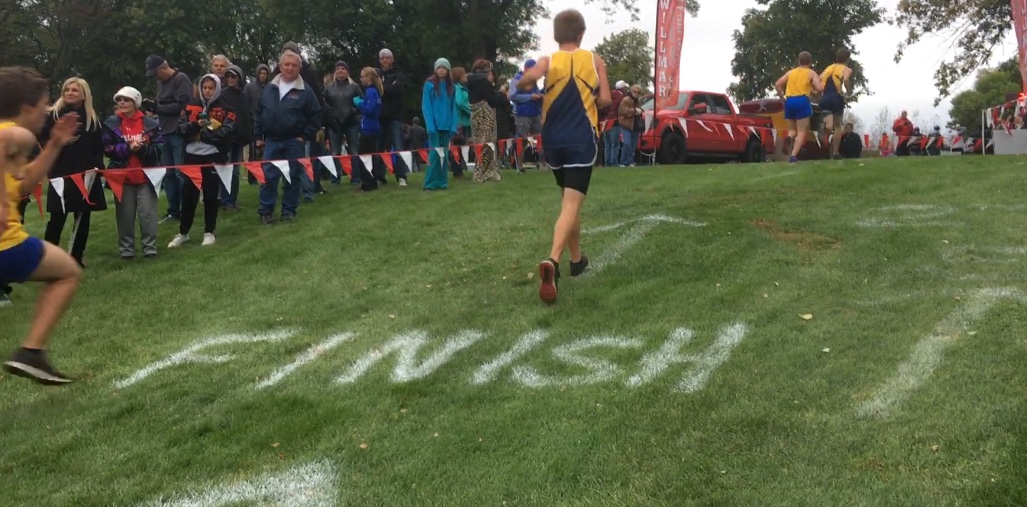 Willmar with a Side of Poutine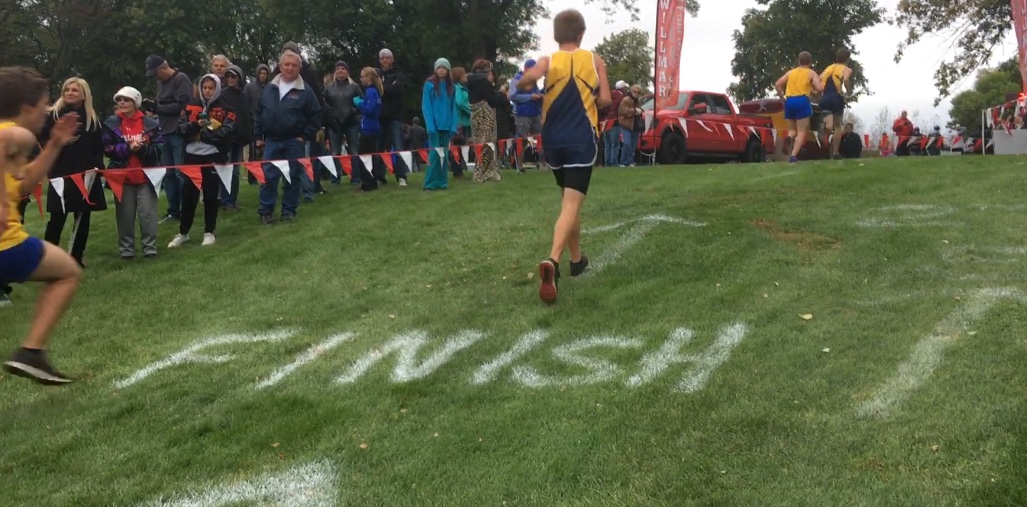 At around 5:00 Saturday night J, Steve, W, and I sat in a Wendy's in Alexandria, Minnesota. Actually Steve, W, and I sat at one table. J sat at another table, insisting he eat by himself. We weren't going to push eating together as a family. J had cleared the two biggest hurdles that have consumed his mind since Labour Day weekend–exit 55 and 67–on the way to his Willmar, Minnesota meet and he ran a good race. We weren't going to force him to be at the same table as a box of French fries.
J has a phobia about French fries. It doesn't permeate to all potato-related foods. It's just French fries. Have I mentioned that yet on this blog? I probably haven't. It's not a phobia that we encounter very often–only when we hit fast food restaurants, and he's learned to handle that phobia pretty responsibly. In fact, when he's in the cafeteria at school and someone has fries on their tray, he knows how to just sit somewhere else and not have a big freak out over them. It's taken a few years to get to that point, but he handles being in the same room as a serving of fries pretty well now. Which is why, even after I saw that J's Cultures and Cuisine class was going to make poutine on Friday, I totally forgot to give J's teachers a heads-up on a possible French fry freak out in class. Luckily, J handled himself appropriately–he just simply, and very decidedly told his teacher he just wasn't going to participate in the class that day. No big deal.
The big deal that has consumed J's life–almost every waking minute of it (and I'm not using hyperbole)–has been J's XC meet in Willmar. For J the numbers 55 and 67 provoke the worst kind of anxiety and passing those numbers on 1-94 East is almost unbearable. Luckily, with a lot of coaching from J's teachers at school and XC coaches, and with an awesome social story, J was able to get himself through those few minutes of his three hour drive to his meet.
It was simultaneously exciting to see J manage his anxiety on his own and heartbreaking at the same time. Just a few minutes after J went into "the zone" to fight his anxiety with all his might, he looked up from his pillow and saw the sign for Glendalough state park ahead. He suddenly had this wave of realization saying, "Oh, I love Glendalough. We haven't been there in a long time. We should go back there someday." It was almost as if he, momentarily, realized that his anxiety over the past two years over these two numbers had prevented him from not only experiencing but remembering the good things that extended past those two numbers.
Below is a video of J as we passed exit 67. I'm trying to document all the times he handles his anxiety well, so when he starts to get all hot and bothered about the same things in the future, we can show him how well he handled it in the past. You can tell in his face that this really stresses him out. What makes it hard, is that unlike mile makers, exit signs are shown multiple times to indicated to the driver that the exit is coming. So J has to endure seeing the number "67" three times before it's actually over.
I am so grateful for the support we've received from J's teachers on this hurdle. I'm so grateful for the social stories, the pep talks from his teachers before he left school on Friday. The text from Coach L on the trip asking how J was doing. I really couldn't ask for a more supportive village.
J ran his second 5 K of his XC career on Saturday and ran the best races of his entire life. He shaved a full 2 minutes and change off his last week's 5K race. Maybe all that pent up anxiety in the car got channeled in his race? I'm not sure, but he was the most focused and determined I've ever seen him run a race before. I've just kept thinking all weekend that not only is J's anxiety a thorn in our sides, but how much it is to him. How it really prevents him from learning and growing. If we never got him to Willmar on Saturday, he would never had the race he did. His anxiety gets in the way of everything. I just keep thinking, "If J didn't go to school worrying about fire alarms and bad numbers all of the time, my word, how much more would he be able to learn at school. How much is his anxiety preventing him from learning and growing?" I already know the answer. It's absolutely devastating to his focus and learning. For heaven's sake, he missed out on poutine–POUTINE because he had to leave his class over his anxiety over French fries. That's beside the fact that you can't learn anything if you're not physically in the class.
This Saturday's experience just reinforced something Steve and I already know. We have to keep pushing against the anxiety. Because you never know how much he is capable of doing on the other side of it. He might just be able to run the best race of his life.
Please follow and like us: