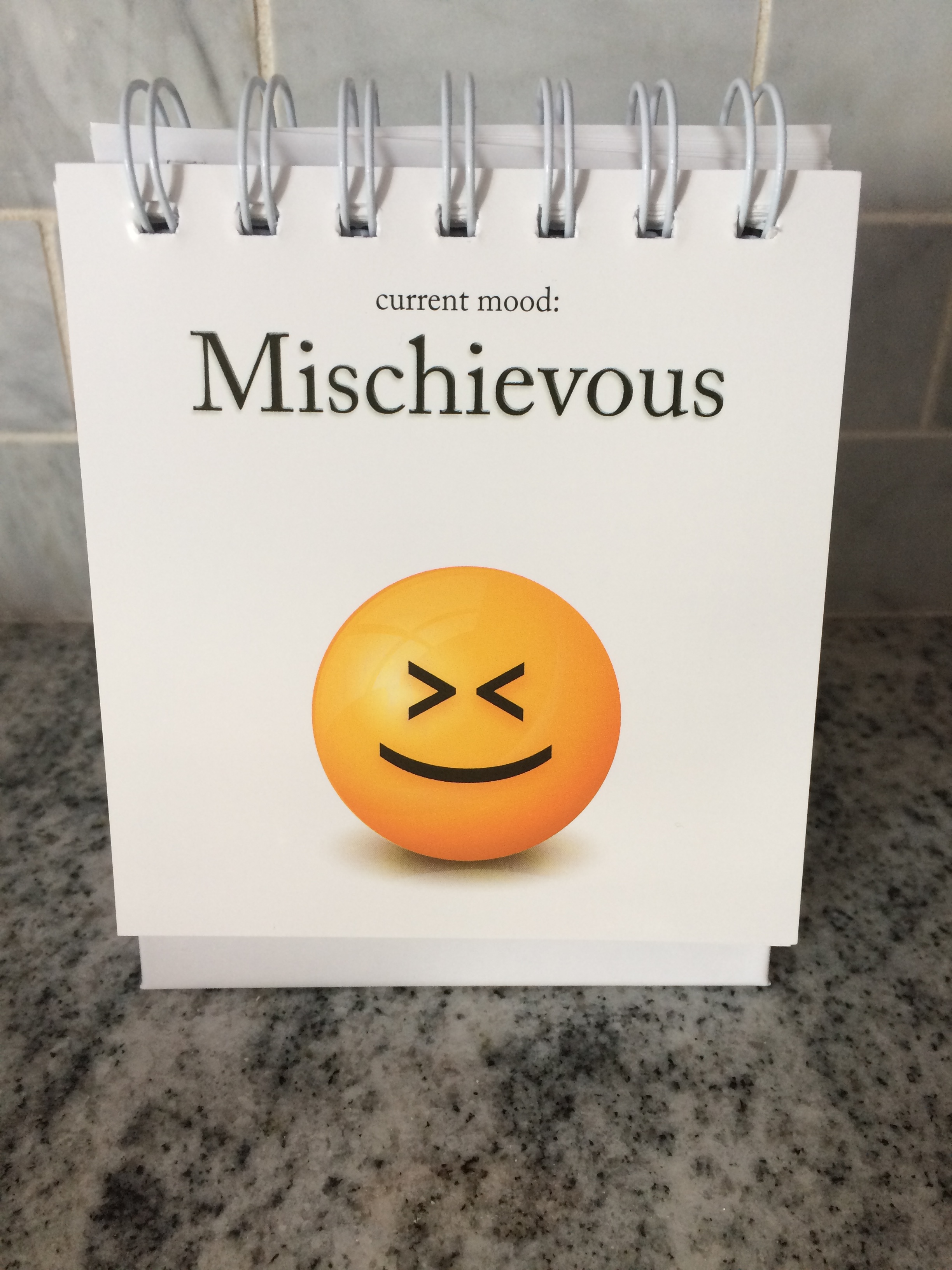 On books, emotions, and the human condition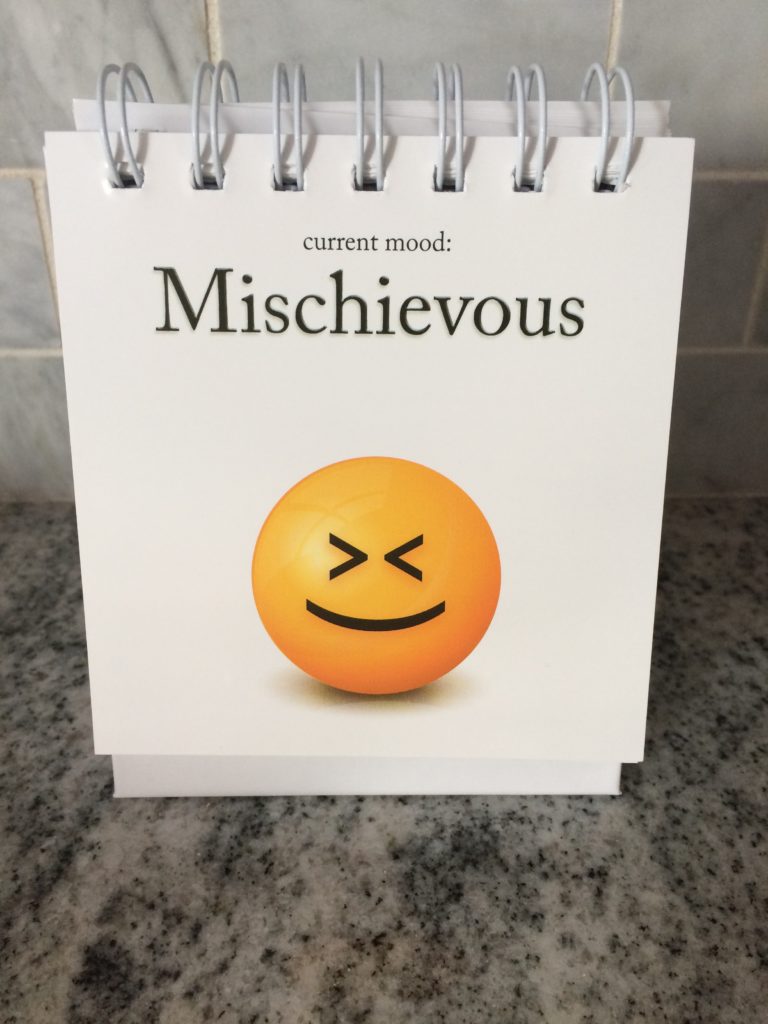 While I was in Canada last week, my aunt and I spent some time pursuing Chapters, a bookstore library chain similar to Barnes and Noble. As a mom of a child with autism, I'm always curious to see what books are out there for autism, like how many shelves in the Parenting section are dedicated to autism. Sometimes I wander through the children's book section to see how many books are written for "typical" children explaining to them what a child with special needs looks like (there are very rarely any of those types of books out on display). One thing I find really strange, is that we don't have books for kids with special needs. Why aren't there books for dyslexic kids–written in fonts easier for visual processing? (Check out this article on NPR about fonts and dyslexia–it even explains the idea of a dictionary organized by meanings instead of alphabetical order), or more braille books for children sold at traditional bookstores? There are no books specifically for autistic kids (and honestly, I'm not quite sure what kind of differences they would have), but sometimes I feel like having a section of books dedicated to "social stories, understanding emotions, or highly visual books" would help when I'm trying to find a book for J, especially when I need something that is a little more explicit in explaining the human condition or emotions. I usually have to come up with some creative adaptation for a potential book to make it fit our needs, if I'm lucky enough to find one at all, or ask classroom or special education teachers for recommendations for books addressing the specific subject or need I'm looking for. We have entire sections dedicated to babies: board books, pop-up books ,and other types of interactive books with sounds and music. Where's the book love for kids with special needs?
As a side note, and as a writer, one thing I noticed while we spent our time at Chapters is  how the Canadian reading market (at least at this Southern Alberta Chapters) was different than our local Barnes and Nobles market here in Fargo. Here are just a few random observations I had:
There's a huge push for contemporary Canadian authors. It's Canada's 150th anniversary this year, so I think that helps in the marketing push too.
Lots of "commercial" fiction. There's a lot of commercial fiction in Fargo's B&N, but I was surprised how much commercial fiction was being pushed in Canada (Think New York Times Best sellers).
There's not a lot of "Classic" minority writers (Think Maya Angelou, Octavia Butler, Toni Morrison, Sandra Cisneros, Richard Wright, Jhumpa Lahiri, etc.) And then I realized that these authors write about the American experience and it might not resonate with Canadians as much. I don't know. I was a little surprised.
There's not a lot of "Classic" Canadian fiction–I was expecting to see a lot more Mordecai Richler, Alice Munro (although there was some Margaret Atwood), W O Mitchell, Michael Ondaatje, etc. If I found these authors in the stacks, Chapters only carried one or two books by that certain author.
When did book stores start turning into home decor stores? This Chapters had throw pillows, mugs, wall art, and other sorts of home decor.

Apparently this book is a graphic novel on what happens when the United States tries to invade Canada. Of course, you wouldn't find this at your local American B&N 😉

Leonard Cohen, of course.
I guess bookstores intrigue me, because when I enter a book store, I look for books in a different way than when I look for books online. When I look online, it's because I have a certain book in mind I'm looking for. When I walk through the store, I browse and skim through books that peak my interest, even if I've never heard of them before. As a mom and a writer, I find the bookstore experience very informative. I get to really see what types of books are being pushed, what the market looks like, who the target audience is, and what or who is missing (like special needs audiences or more classic, regional literature).
While I didn't find anything geared specifically to J, I did happen to stumble on this awesome find–and it wasn't even a book at all. Usually when I'm trying to find something "specialized" (dealing with the human condition, social stories, or emotions in a highly visual way) I have to hit the teacher's stores or online special education distribution centres and end up spending a pretty penny on them. But this. This was gold, and I knew as soon as I saw it that J would love it.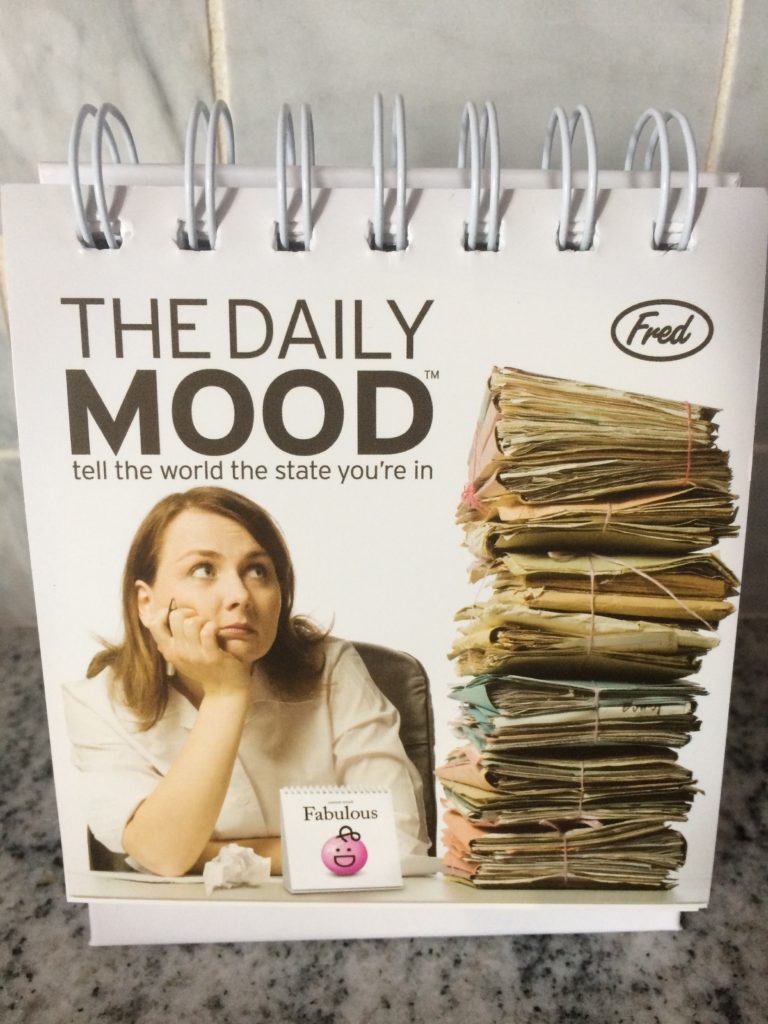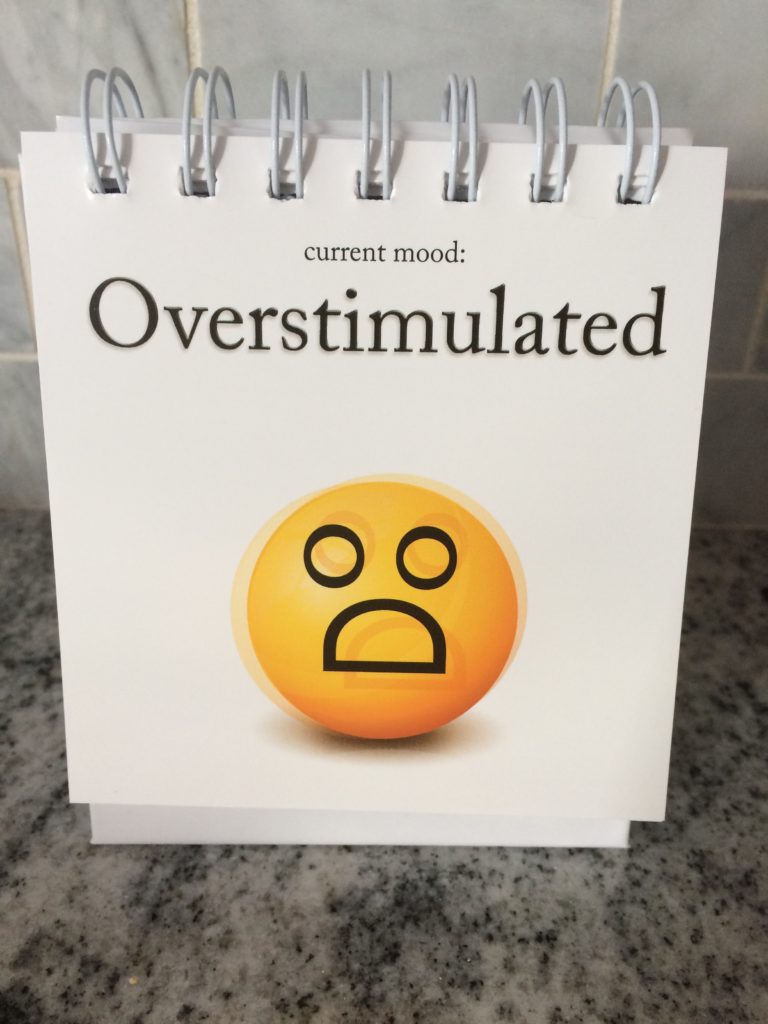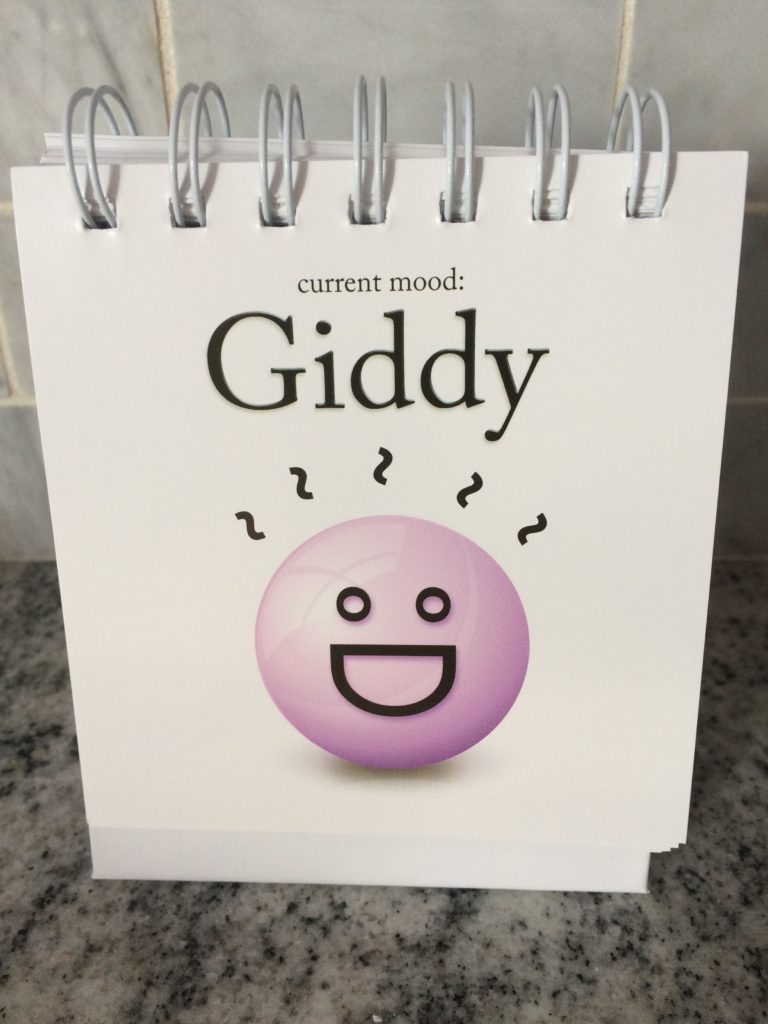 J has a really hard time expressing emotions outside of the "happy, sad, nervous, anxious, overwhelmed" categories. I thought this was a great resource to help him 1) expand his vocabulary and 2) help him understand his emotions. When J was a preschooler, I tried working (a lot) with J on emotion flash cards but it was often a stressful experience. J got really anxious seeing pictures of unfamiliar people or children expressing emotions through exaggerated facial expressions. After a teary eyed session of practicing with these flashcards I'd often find them hidden under the couch or even the garbage can later. Over the years, J's been able to manage photos of strangers better (he no longer hides the family Christmas card pictures we get in the mail), but I know that using emojis to show emotions would be WAY more effective. And I was right! He loves these. Every day we plop this "calendar" in the middle of the dinner table, discuss what the new emotion is, and everyone goes around saying a time that day where they felt that emotion. Then we review what the emotion from the day before was and talk about a time where we felt that emotion too. It even gets my "neurotypical" preteen/middle school daughter to open up a little more about her day.
Here's the link to the calendar if you're interested. I have no incentive to promote this product. I just thought it might be helpful for you parents out there who are looking for an extra resource. Because once again, there really isn't an easy place out there for finding helpful tools for kids with special needs.
Please follow and like us: