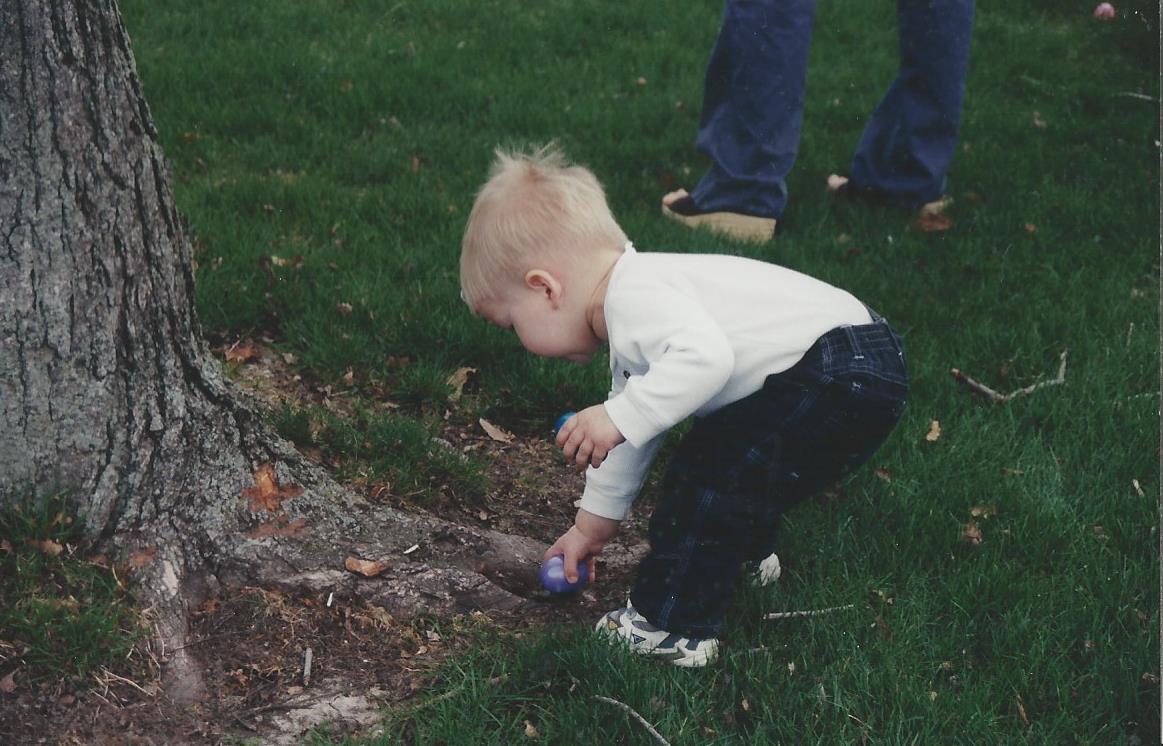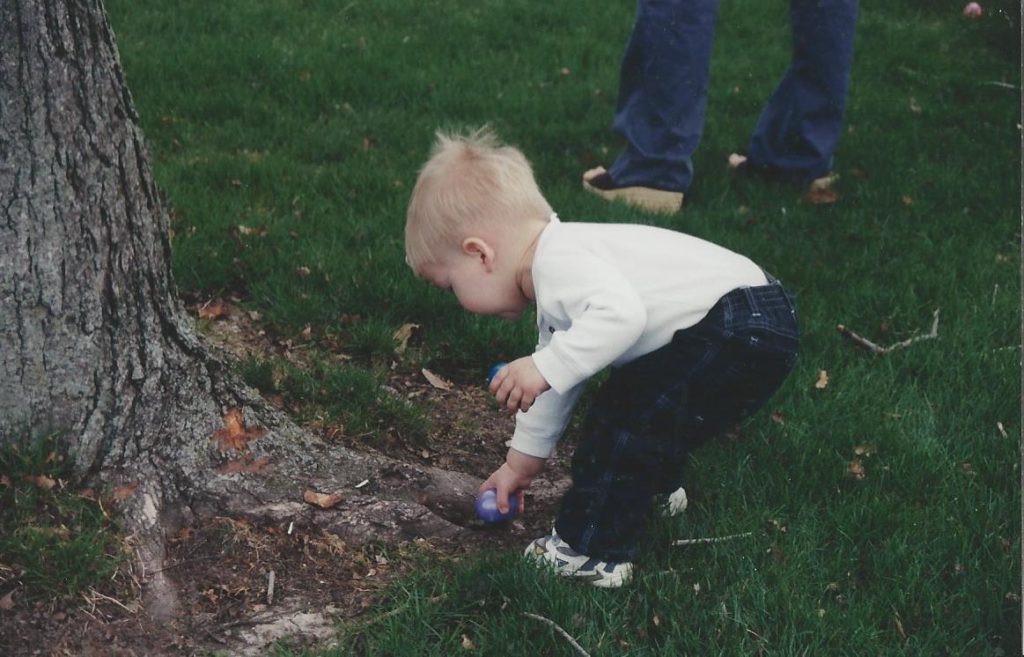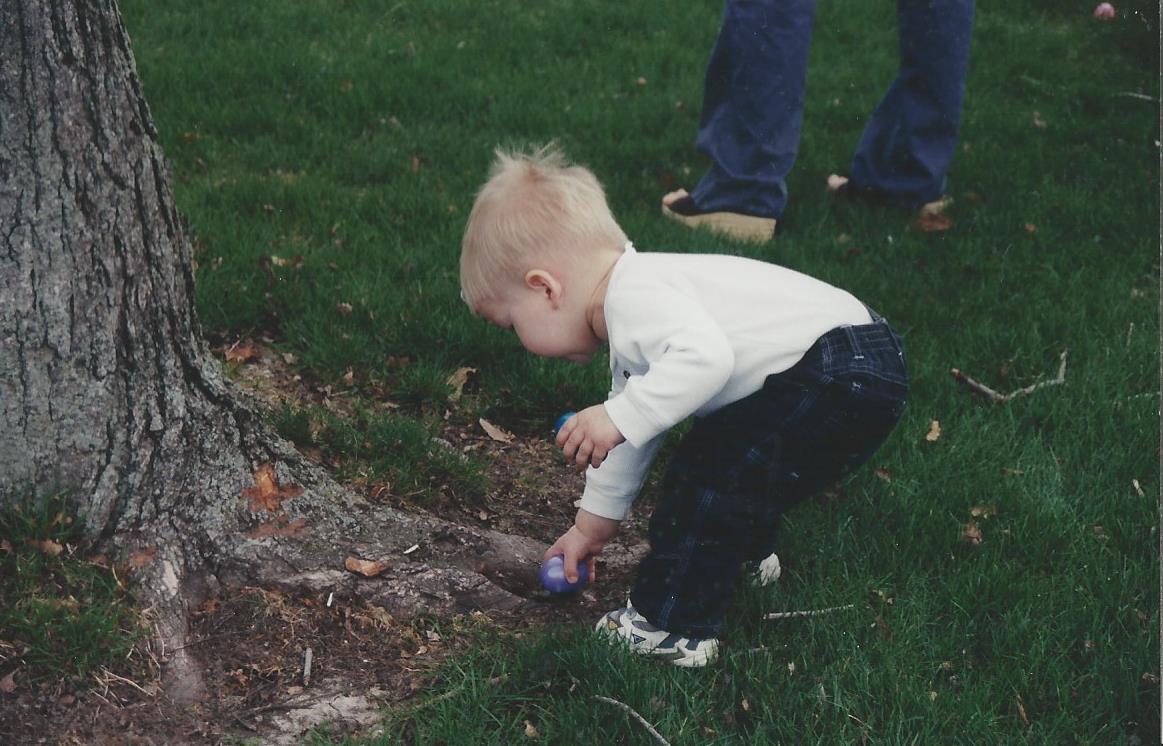 In honour of celebrating Autism Awareness Month, we've been living this week in typical (unpredictable) autism fashion. Here's a little recap of how this week totally threw us for some unexpected surprises.
Sunday: Our good friends invited us over for Easter lunch, and it was the most entertaining, heartwarming lunch I've had in a long time.
J got to meet my friend's new dog Tucker. Fred really did work some miracles for J when it comes to dog interactions. Fred taught J about "dog bubbles" (like "you don't run up to a dog and give it hugs" and "you give it time to get to know you"). Fred taught J how to be calm around dogs and not to panic or try to run away from them. It's been really amazing to see J mature in that way. J and Tucker really hit it off!
The best part of the lunch, though, was seeing J transform into Mr. Manners and Social Skills. J pulled out all of his best lines, and said them with perfect "delivery," as if he were having dinner with the Queen. My friends and I were cracking up about how serious and formal J was with his questions. To the kids: "How is school going for you?" to the adults: "How is work going for you?" We've known these friends for as long as we've lived in Fargo, and it was absolutely hilarious (and endearing) watching J try so hard to have an "appropriate dinner conversation."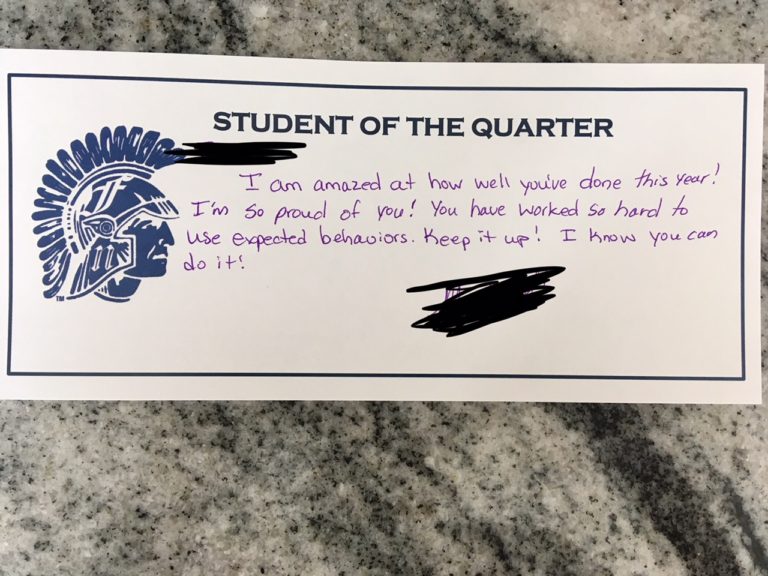 Monday through Wednesday: Sometime over the Easter break, we received this very splendid note in the mail. Honestly, I was shocked. I actually texted Steve–with this picture (minus the blackout blog edits): "So does this mean J is student of the quarter?" Because I honestly didn't think that was even possible. J wasn't even REMOTELY close to getting a "Student of the Week" nomination in middle school.
Sure enough, a few days later, I check my inbox and in the high school newsletter is the list of students earning "Student of the Quarter" status, and J's name was on that list. He truly has had an amazing year so far. His ability to handle his anxiety has gotten SO much better. His focus and drive to work on his homework and schoolwork has gotten SO much better. He's progressed so much in his XC/Track experiences and choir experiences. He has only been sent home once this year for behaviour issues.
That is, until Thursday.
Thursday:
This is what autism looks like. Just when you think things are so hard and will never get better they do, and once things do get better (and stay trending that way) you'll get a day like Thursday thrown in there. I could try to nit-pick and comb every possible reason why Thursday happened (it was a short week–in middle school short weeks always spelled trouble), we were off of a five day weekend (that much time off really throws you out of your routine), it was the 142nd day of school (that number was a superstitiously "bad" number a few years ago). Or maybe he just had a bad day. I don't know. But J was sent home for behaviour issues on Thursday. And it was a little heartbreaking because he's been making huge progress this year. I just have to keep reminding myself that the progress is still happening.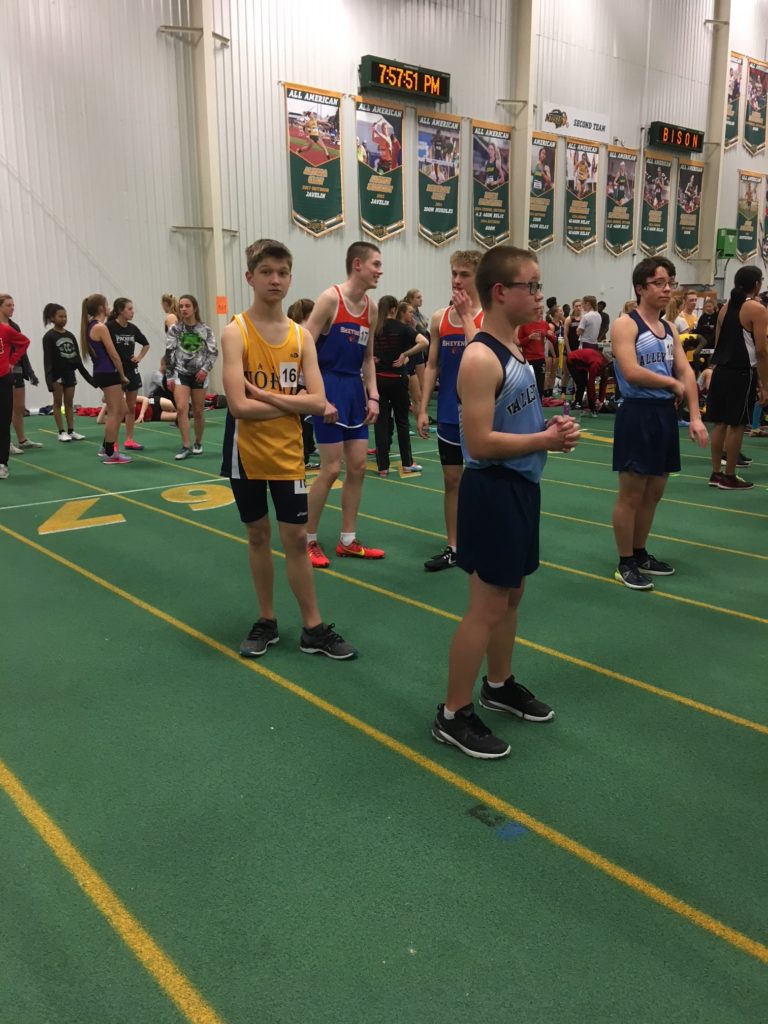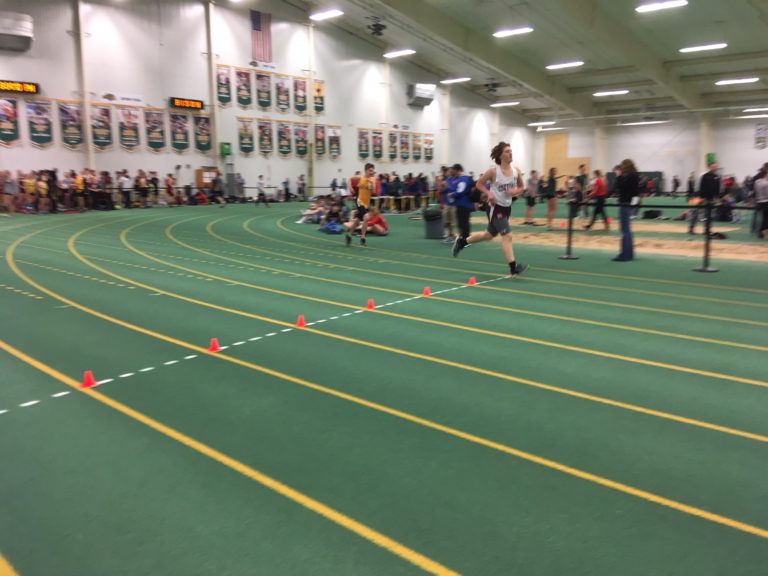 Friday:
Friday was a miracle. I don't know how J made it through Friday (especially after the kind of day he had Thursday) but he did it with flying colours.
Friday morning started with a 6:30 am school drop off. J's choir class participated in EDC (the regional conference here in North Dakota) at a local church. J's job that morning was to help as a door moniter (we're hoping that with enough practice and exposure to the choir competition environment, he'll participate in competition in the next couple of years!), and with the help of his para he did an amazing job. I took him back home after his shift for a quick lunch and took him back to school, and then picked him up for early dismissal to get him to his track meet.
4 hours. J waited from 4pm-8pm for his event. No dinner, just 2 Quaker granola bars to hold him over (that's a hard stretch to make–you still need to make sure your stomach is "empty" enough for your race) and a lot of Ipod time. I think this has got to be one of our victories in personal, emotional, and metal growth for J. Waiting when you have autism is hard. Anxiety is hard. Disruption of routine (sitting on an overcrowded track and missing your dinner and then despairing a little when you hear there are 18 heats of the 400m dash) is hard. I sat with J at camp during this meet, just because it was so crowded and chaotic. I quizzed him on "track" procedure: Listening for you call time. Listening for your number. Knowing where to find your assigned numbers and then knowing where to place your numbers. Figuring out where your lane is (if you've got a funky number like 16 and there's no lane for you, then you ask the official).
I know I say this every time we have a track meet, but J has incredible teammates. One of his teammates made sure J knew exactly when to warm up (which is much harder to pay attention to during a track meet than a XC meet). Another one volunteered to run the cool down with him. I can't express how much I appreciate this. Parents, your kids are amazing.
There were 3 heats for the 800m this week. About 60 kids total running the race. J lined up in his heat and really tried hard to pay attention to the "track protocol." He ran his heart out (a huge win–this is something he's still learning to do) and came out with a new PR: 3:21 (9 seconds off last week's time). I don't know how he did it. His extra curricular and school day started at 6:30 am and he didn't get done with his day until almost 9:00. Autism miracles happen.
And that's how we roll. Always unpredictable. Always entertaining, discouraging, and a little uplifting.
Please follow and like us: